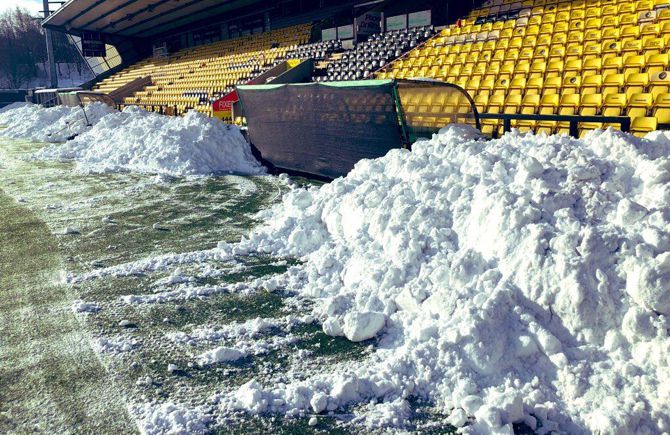 It's been a busy few days of pitch maintenance as we looked to shift the incredible amount of snow that fell over the past few days.
Of course, we were as disappointed as anyone that Wednesday's game with Hamilton fell foul of the snow, as we looked to bounce back from Saturday's defeat to St Johnstone. The weather gods had other ideas though and sadly, it wasn't to be with over 8 inches of snow upon the pitch on Wednesday morning.
We've since had contractors on the pitch with snow ploughs, with half of the park cleared amounting to build ups of snow down the touchline which stand taller than the permitter walls and almost as high as the dugouts too.
The light, airy, powder-like composition of the snow means that clearing the park has taken significantly longer than we'd like, with the snow itself falling away either side of the plough meaning multiple runs of the same area have been required just to remove the top layer.
We've also had to bring in a dump truck to help move the build-up of snow to avoid making the concourse area unsafe and prevent those snow piles freezing over and becoming huge blocks of ice which we'd be left with for a number of weeks!
The players will train on the cleared area of the pitch today ahead of tomorrow's clash with Dundee United and hopefully, with a rise in temperatures and some rain forecast over the coming week, we've now seen the last of the snow for the winter!
Click the images below to enlarge