24 miles in 12 Hours, and some of the most stunning scenery in Scotland.
Fully Supported by a 6 month training program so even if inexperienced or not confident fitness wise we make sure you can complete and enjoy this fantastic challenge.
Activity Date: Saturday 24th June 2017.
Last year 29 participants took part in WLYF's challenge, many had never walked in the hills, let alone walked for 2 miles with some 6,000 ft. of ascent – but every one made it. Some loved it – some might never do it again, but all said, they enjoyed the experience and comradeship with many making new friends over the training and final walk days.
This challenge was originally organised by FFIT members as a follow-on event for the West Lothian Youth Foundation (WLYF), Football Fans in Training (FFIT) program that started in 2015.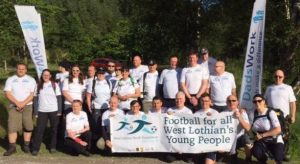 FFIT was all about increasing the mobility, fitness and diet of the participants, in particular through walking and football, with the initiative proving to be extremely successful.
As a group WLYF and FFIT discussed doing something 'challenging' that all FFIT participants could use as ongoing motivational tool. We settled on a 24 miles walk, from Fort William to the Glencoe Ski resort with a target time of 12 hours or less. Further, we decided to raise funds for WLYF and DadsWork, a charity run by one of the original participants and to extend walk participation to the wider WLYF 'family', meaning anyone associated with the Foundation, Dads Work, FFIT or local communities can take part. This year we are allowing participants to raise money for the founding charities or their own nominated charities (extra fees apply).
COSTS
£25pp Entry Fee with a commitment to raise funds for WLYF and Dads Work
£100pp Entry Fee to be allowed to raise funds for your own nominated charity.
£25pp Travel and Accommodation pack
£15pp Friday Night Meal
£25 ENTRY FEE (WLYF and Dads work fundraising): All participating walkers are required to pay a £25 entry which is non-refundable and secures your place on the walk and includes a T-Shirt, Medal, Certificate and food and soft drinks at the manned check points on the walk.
£100 ENTRY FEE (Your own nominated charity): All participating walkers wishing to raise funds for their own charity are required to pay a £100 entry with a £25 deposit which is non-refundable. The £100 entry fee secures your place on the walk and includes a T-Shirt, Medal, Certificate and food and soft drinks at the manned check points on the walk.
Entry fee gives access to a managed 'Funding Page', all training walks, tips and promotion on our web site. Funds must be distributed by WLYF and can only go to either a registered charity or constitutionalized group, via a bank transfer.
ACCOMODATION PACK (Optional – available to all walkers): The travel and accommodation package is an ADDITIONAL £25 and includes bus travel from Tranent and Livingston on Friday 23rd June and an overnight stay at the Backpackers Youth Hostel. There are only 45 of these packages with spaces filling up fast. If you don't take this option you are responsible for your own travel and accommodation.
Friday Night Meal (Optional) – £15 per head booking required (2 courses )
Please note all participating walkers are required to pay the entry fee before 28th February 2016 and those wishing the accommodation and travel package the extra £25 requires payment by the end of April.
FUNDRAISING
All registered walkers are expected to participate in raising funds through not only individual sponsorship but also by promoting and attending fundraising events.
No minimum fundraising amount is being set but participants are asked to be active in their support of the fundraising.
The following examples are some of the fund raising events and ideas we would hope to hold in support of Walk with the Foundation: 24 in 12:
A Games Night (non-physical) / Disco – Friday 10th March Almondvale Suite LFC
Pizza Party (Dads work garden) (Provisional May 28th) (Families welcome – £5 per head £10 per Family?)
Family Night walks and sausage sizzle. (Provisionally Sat April 8th – £5 per head and £3 kids u16)
To ensure that these additional fundraising activities are successful we will require additional volunteers who might not be taking part in the walk.
A fundraising pack will also be distributed to all walkers taking part in the Walk with the Foundation: 24 in 12.
Training Schedule
The Walk with the Foundation: 24 in 12 is a challenge!
The 24miles will cover approximately 6,000ft and while it's on the beautiful West Highland Way some of the paths can be rocky and rough.
The Walk with the Foundation: 24 in 12 is aimed at being not only being motivational but designed to encourage fitness and we would like to make you aware of these very important points:
This walk is achievable by all (including all FFIT participants)
All walkers will need to train.
It's so much easier as a team!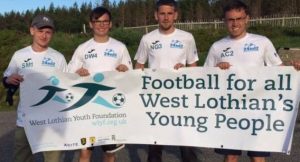 Training dates need discussed between all walkers but below is an outline training schedule. The training schedule is based on an activity taking place every 3rd Sunday with the initial training walk being held on the 29th of January 2017 but walkers are free to join later but we encourage all walkers to join in as it builds the team ethos that worked so well last year. Our ethos is no one no matter how slow will ever walk on their own!
The training walks will include hills, as it is essential to replicate the type of walking you will complete during the Walk with the Foundation: 24 in 12. Each walk will increase in length and will hopefully replicate some of the terrain you will come across on the 24th of June.
Another key element to the training is to see if we can form ability groups, depending on numbers taking part. This will mean we will be able to build small teams that will support and encourage each other during the 24 miles. The actual walk does not require any real skill or massive amounts of expert equipment. You only need the ability to walk however they would state that having the right boots to wear is essential as all of the walks won't be on flat tarmac! You might also benefit from walking poles and perhaps some grim determination!
As well as the formal training above participants will all (of course) be encouraged to any walking they want to do on their own.
Volunteers required
Walk with the Foundation: 24 in 12 will also need a small support crew on the day. We would be looking for approximately 2-4 people who can drive and would be willing to use their own vehicles. The support team would travel between specific rest points during the day supplying the walkers with water, food and support. Last year we had fantastic support crew and they proved essential to the success of the actual day.
The support crew will not need to pay the participant fee with travel and accommodation costs also covered by the Foundation.
The support crew could be family or friends of the walkers or even those people who would like to help out but feel they couldn't complete the walking challenge.
Interested / Questions?
Please contact West Lothian Youth Foundation: