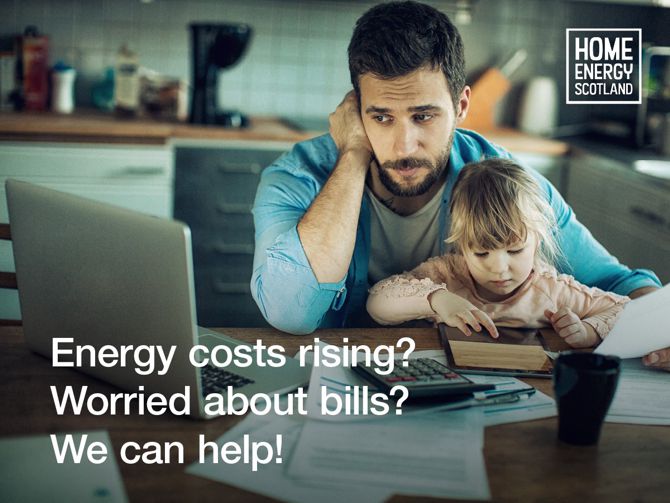 With people all over West Lothian feeling the pinch at the moment as we continue to do our bit to weather the storm that Coronavirus has brought us all, Livingston FC has spoken with Home Energy Scotland to bring you details on how you can look to reduce energy bills and help keep your home warmer for less.
Home Energy Scotland is a free and impartial advice service funded by the Scottish Government. Their friendly, expert advisors give energy saving advice tips which will help you to reduce your energy use and save money on your bills. They can also check if you're eligible for any funding or schemes, such as insulation or central heating, to keep you warmer in your home for less.
Get advice today on how you can reduce your energy bills to save money and check if you're eligible for funding or grants that can help you do this.
Are you finding your home hard to heat, or worried about rising energy bills?
Home Energy Scotland can help you. They are funded by the Scottish Government to help you reduce your heating costs so you can keep warm in your home for less.
Rita used the Home Energy Scotland service last year and said: "I feel like a weight has been lifted off my shoulders, as I didn't feel able to do anything about the situation myself and the support from Home Energy Scotland has made such a big change to my life. The constant worry has been taken away, I'm sleeping better and I've not felt this good in a long time.
"I can't thank Home Energy Scotland enough – their advisors were kind, caring, empathetic, and very good listeners and made me feel comfortable throughout the support they gave me."
Making your home more energy efficient can really help to reduce your bills. Home Energy Scotland can check if you are eligible for free insulation and heating, which means they could help you access help worth up to £5,000 to cover the cost of energy saving home improvements, through the Scottish Government's Warmer Homes Scotland programme.
Livingston FC Business Development Manager Dave Black said: "With some of these grants accessible to support those in Livingston and West Lothian, we wanted to use our platform to help bring this to the attention of as many people who could benefit as possible.
"We know all too well the difficulty that many people in the community may have experienced over this testing year so if helping to push this can offer some support to, not only our own supporters, but local residents then it'll be a job well done."
Their advisors are ready and waiting to give you their free and impartial advice, so give them a call on 0808 808 2282 or visit www.bit.ly/HESLivingstonFC for more information.