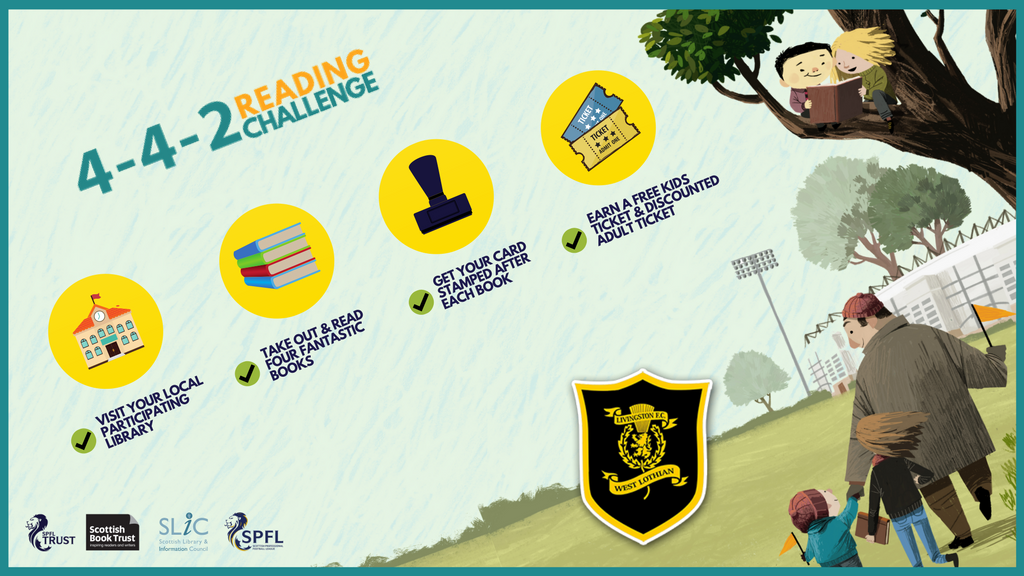 Livingston FC, West Lothian Youth Foundation, the SPFL Trust and Scottish Book Trust have teamed up to launch a pioneering pilot project, which aims to encourage kids to read.
The Lions are working in partnership with 14 SPFL clubs and local libraries, to deliver the 4-4-2 Reading Challenge which aims to inspire children aged 5-12 to read four books in exchange for match tickets.
The initiative centres on a reading "challenge card" which participating clubs and libraries will issue. For every book read, children will receive a stamp on their card.
When they have read four books, participants will receive a FREE match ticket for a home league match at The Tony Macaroni Arena, while an accompanying adult will be able to purchase a discounted ticket.
Although this is a test project, over 200 libraries, marking more than half the estate in Scotland, will be involved, across 11 of Scotland's thirty-two local authorities. The project could be extended to cover the whole country if the initiative is a winner.
Funding for the 4-4-2 Reading Challenge has been generously provided by the SPFL. In turn, the SPFL Trust and Scottish Book Trust have launched a partnership to deliver an initial three-month campaign.
The 4-4-2 Reading Challenge is underpinned by a beautifully crafted visual campaign, featuring the drawings of Edinburgh-based Danish illustrator Anders Frang.
SPFL Trust Chief Executive Nicky Reid comments:
"The 4-4-2 Reading Challenge initiative is designed to encourage children who don't regularly visit the library or sport to do so. As such, we think it's a real win-win opportunity for all concerned. Although this is a pilot project, we have high hopes that it can be a hugely successful programme, and so we are grateful to the SPFL for their support to allow us to kick-off."
Marc Lambert, CEO of Scottish Book Trust, a charity changing lives through reading and writing, said:
"Taking part in sport and reading are both important for young people's physical and mental health. As well as being fun, reading for pleasure can increase empathy, reduce stress and improve wellbeing, while all the research shows that children who read for pleasure also tend to do better at school. We're delighted to work with the SPFL to use sport to encourage a love of reading in Scotland's children."
Scott Millar, General Manager at West Lothian Youth Foundation commented:
"The 4-4-2 Reading Challenge is another fantastic example where sport can not only accompany academic learning but also encourage it. This is a brilliant opportunity for the school pupils of West Lothian and we are delighted to be working with our partners Livingston FC on this initiative."
David Hopkin, Livingston FC Manager adds:
"Everyone at Livingston FC fully supports the 4-4-2 Reading Challenge, a very worthwhile initiative. We can't wait to welcome those who complete their challenge card to the Tony Macaroni Arena."
SPFL Chief Executive Neil Doncaster says:
"The 4-4-2 Reading Challenge is another excellent initiative from the SPFL Trust that the SPFL is delighted to support. Learning to read is a cornerstone of every child's upbringing and hopefully the reward of getting to a football match will encourage many of them to take up the challenge."
If you would like to get your child's school to get involved, ask the class teacher/school staff to email info@wlyf.org.uk to register the school.
Alternatively, pop into your local West Lothian Council library next week to pick up your free challenge card!