Though it was far from a vintage performance, we deserved better than the 1-0 defeat that was the outcome of Saturday's league opener at Alloa.
Like the Ramsdens Cup loss at Berwick there was little doubt that we were the superior side on balance of play, but we were found lacked the most important department – scoring goals.
Alloa, on the other hand, created two really good chances all afternoon but took one of them, and that was enough to make sure that we left Clackmannanshire empty handed for the first time.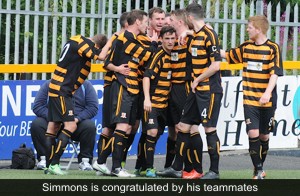 Stephen Simmons notched the goal that ultimately made the difference, three minutes before half time. It was finished well from around eight yards but the real damage was done when Kevin Cawley got space on the bye line to deliver the cross.
Other than that the only time that the Wasps really troubled Darren Jamieson was when Andy Kirk went clean through on goal in the first half but found our No 1 equal to his shot.
His opposite number Scott Bain had several good saves throughout the afternoon and was instrumental in our defeat.
A fair criticism last season was that we too often passed up the opportunity to have a shot on goal, but there was a fair amount of that in evidence at the Recs.
Most notably, Coll Donaldson very nearly marked a good performance at right back with a wonder goal late on, but typical of our luck on the day, the junction of post and bar stopped his 20-yard thunderbolt rather than the back of the net.
There were other efforts from McNulty and McDonald from outside the box that might have found the net on another day or against another keeper.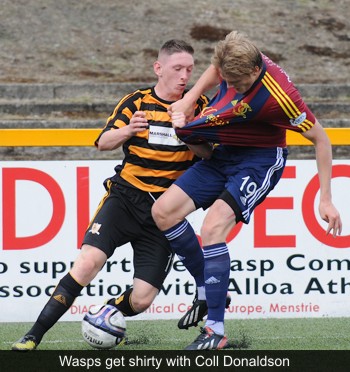 It's fair to say that we struggled to get in behind Alloa's well organised back four. On the one occasion that we did, and McNulty got a run in on goal, Bain got out well to save with his feet.
No review of the game would be complete without reference to Ross Docherty's red card for two bookings, although going down to ten men seemed to galvanise us.
Indeed, with a tactical shift to three-at-the-back thrown in for good measure, we dominated in the latter stages despite Alloa having the extra man.
Doc may reflect on whether he should have gone in for the challenge that resulted in his second yellow card, but in his defence it wasn't anything other than a slightly mistimed tackle.
It's a telling statistic that there were eight bookings in the game - Docherty's two included - a ludicrous figure for a game that was competitive without ever becoming dirty.
Successive changes to the Laws of the Game have put pressure on referees to take action when they may not have done in the past, but that doesn't explain how one referee can dish out eight yellow cards just a week after another got through a similar game without producing any.
Alloa Athletic: Bain, Doyle, Creaney, Gordon, Meggatt, Simmons, Cawley, McCord, Kirk, Holmes (Tiffoney 82), McManus
Subs not used: Ward, Forsyth, Gemmill, McDowall
Livingston: Jamieson, Donaldson, Mensing, Fordyce (Denholm 77), Talbot, Docherty, Beaumont (Mullen 68), Wilkie, McDonald McNulty, Scott.
Subs not used: Lander, Murphy, Downie, Hastings, Walker
Referee: Bobby Madden
Attendance: