Empteezy become match shirt sponsor of Livingston FC Youth Academy.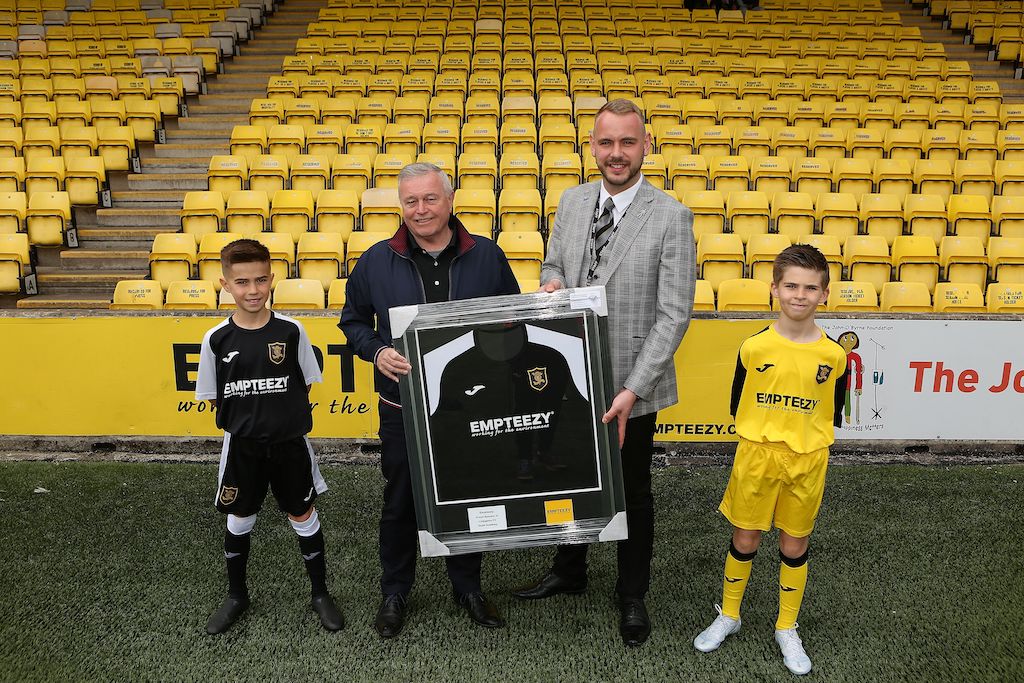 Livingston FC is delighted to announce that local business Empteezy have become front of shirt sponsor of our re-established youth academy until at least the end of 2024.
The Empteezy logo will now feature proudly across the front of all the Academy home and away match shirts as well as the company having purchased a club branded rucksack for all of the kids within the Academy too.
The Empteezy Group is a collection of international manufacturing corporations specialising in spill control, spill containment and spill response solutions.
Founded in 1986, Empteezy UK Ltd was launched in West Lothian by founder Bruce Wishart. Initially developing a patent for the auto-tipping skip, 30 + years later, Empteezy now consists of 9 companies working across a variety of solutions including:
Spill control
Spill containment
Bunded storage
Flammable Liquids Storage
Forklift attachments
Site safety
Oil storage regulations compliance
Decontamination.
This expansion sees over 250 workers employed worldwide with no signs of slowing down.
Empteezy Managing Director Bruce Wishart said: "As as a local company, we're delighted to announce our sponsorship of  the Livingston FC Youth Academy for the next 3 years.
"The restarting of the Youth Academy by the club gives children a local choice to receive professional training and instruction in Scotland's national game. Not only will the Academy strengthen Livingston FC but it will encourage local children into sport with all the attendant benefits to health and wellbeing involved with starting physical exercise at an early age.
"Empteezy are proud to have this opportunity to support Livingston FC in this exciting venture."

Head of Commercial & Media Operations Dave Black said: "We're delighted to welcome Empteezy on board as the main shirt sponsor of the youth academy for the next 3 years.
"Bruce and Empteezy have been long-term supporters of the club, firstly as fans but also as a sponsor, with numerous advertising boards positioned around the pitch.
"When I spoke to Bruce about coming on board as academy sponsor, his enthusiasm to support local grassroots football, particularly to the benefit of Livingston FC, was fantastic and his willingness to support the set-up is hugely appreciated by all within the club and the youth section.
"It'll be great to see all the new kits branded up and in action around the country as we continue the growth of the academy.
"A thanks must go out to our kit supplier The Soccer Shop: Direct for their efforts in turning round the match kits and to our very own kitman Cheb for applying all of the sponsor logos on to the kits for the teams too."
A big thank you once again to Bruce and all at Empteezy.