Season Tickets 2017/18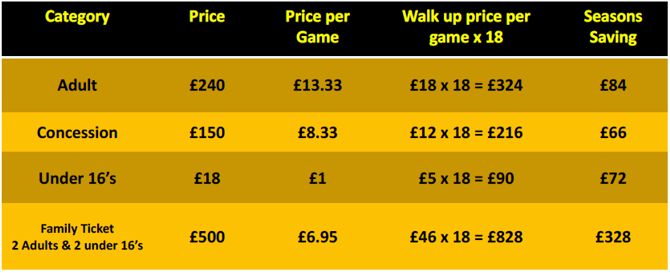 Prices will be in line with other championship walk up prices. However we have put together a package for fans which will offer generous savings on the walk up price.
Last season we launched the Grassroots initiative and this will remain in place, but in an effort to get young fans coming along regularly we have taken the bold step of making season tickets for under 16s £18 which equates to £1 per match
We want to encourage families to come along together and have created a deal for £500 based on 2 adults and 2 kids (pro rata for smaller or larger families).
Please show your support by backing the team and purchase your tickets from 8 May 2017.
NEW!
Due to popular demand we've extended the renewal date to the 30th June, plus we'll also now reserve tickets on payment of a £50 deposit with the balance to be paid prior to the season beginning.  Contact us to make an arrangement as we're happy to be as flexible as possible.
For more information
Call Graham Leslie on 01506 417000
Email us at graham@livingstonfc.co.uk
Visit us in person
Monday – Friday  9am – 2pm
Saturday 10am – 2pm