Get a hold of your Bawbags – Livi style!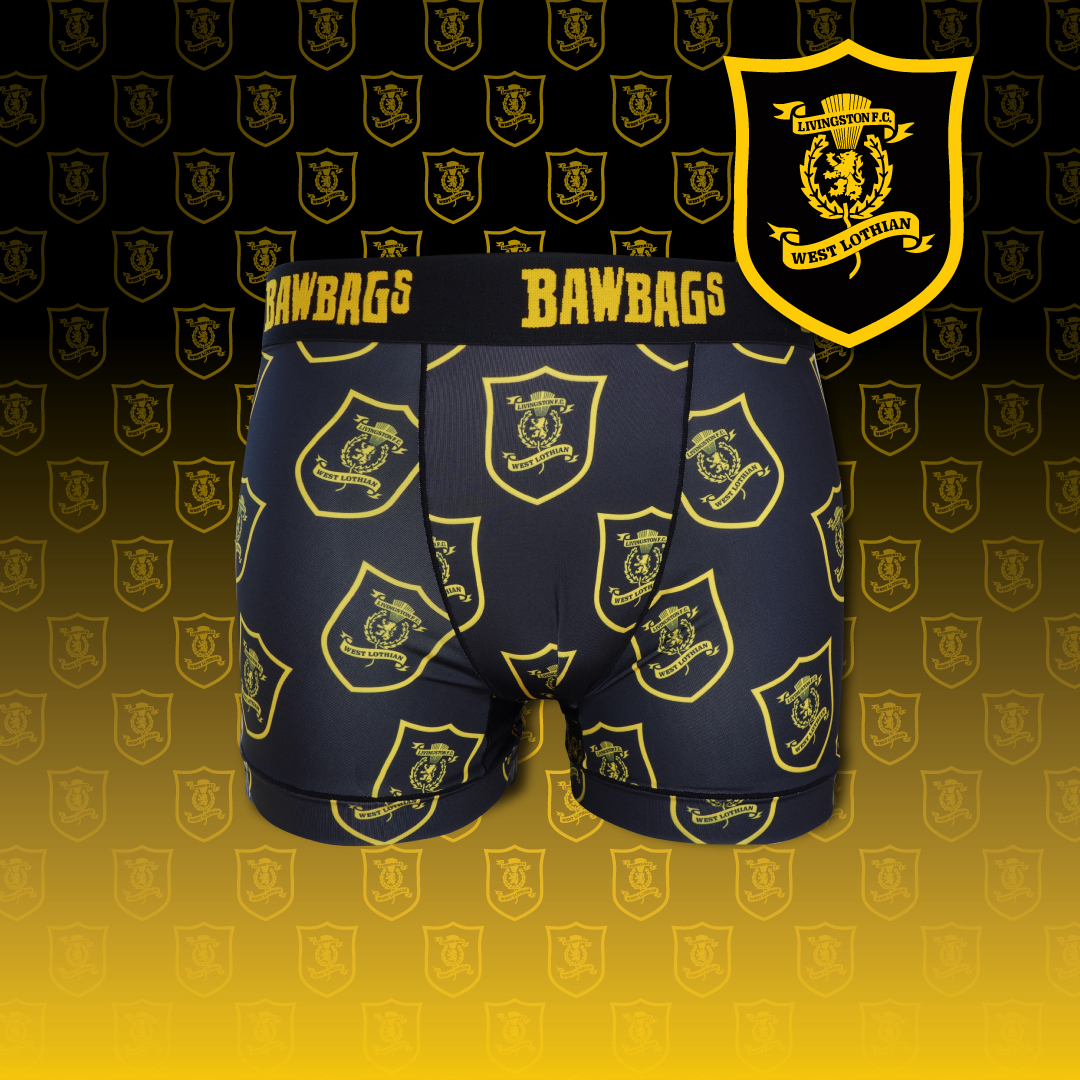 It's the one you've all been waiting on – the official boxer shorts of Livingston Football Club!
We've teamed up with local business Bawbags Underwear based in Houston Industrial Estate, to bring you our very own Livi Bawbags!
Bawbags Cool De Sacs are premium boxer shorts using Bawbags very own Technical Wicking Active Technology, (T.W.A.T.). This special quick drying fabric with a bamboo baw pouch keeps 'em tidy whatever you get up to!
– Technical Wicking Active Technology
– Made from Recycled Plastic Bottles
– Plastic Free Packaging
– Bamboo Baw Pouch
– Breathable, Quick Dry fabric
– Custom Fit
– Supporting Cancer Charities
Get yours here, with free Royal Mail delivery included – https://bit.ly/LFCxBawBags
A portion of proceeds from every pair of Bawbags sold goes to support cancer charities.
Remember, 98% of testicular cancer cases are curable if caught early enough, so check yer baws!
Who are Bawbags though? Here's a bit of background to how the idea came to fruition.
"As with most of our best ideas, the first time we talked about setting up Bawbags was in the pub… It was a simple idea – 'let's make amazing boxer shorts and see if we can raise some money for charity too' – and that was it.
"Bawbags Underwear was established in 2007 on a mission to keep the nation's baws tidy and raise money for cancer charities at the same time! Since then, we have raised well over £50,000 for charity and continue to support Orchid and more recently Medical Detection Dogs as well. Needless to say, none of this is possible without the continued support of our customers!
"Alongside our charitable commitments, we've also been dedicated to supporting the sports that we love. Over the years the Bawbags Pro Team has grown to include some of the world's best skiers, snowboarders, BMXers, skaters, other action sports athletes and top rugby professionals who constantly help us with product development, making sure that we are always at the top of our game! It's amazing to see what these guys and girls get up to – and we wouldn't have thought just a few years ago that we would have Olympians and Commonwealth Gold medallists wearing our gear!
We have always made underwear with bright, vibrant and fun designs because life is too short for boring boxers! We now have a huge range of underwear for men and women, with our cotton 'Original' boxers and the 'Cool De Sacs' range made with our own Technical Wicking Active Technology. In 2013 we added our first base layers, also using the TWAT fabric, to the Bawbags range which also features a line of premium beanies, tee shirts, hoodies and accessories. Each year we continue to work hard to come up with some exciting designs so your baws are kept tidy in the finest style!"