Introducing our 2021/22 Home and Away Kits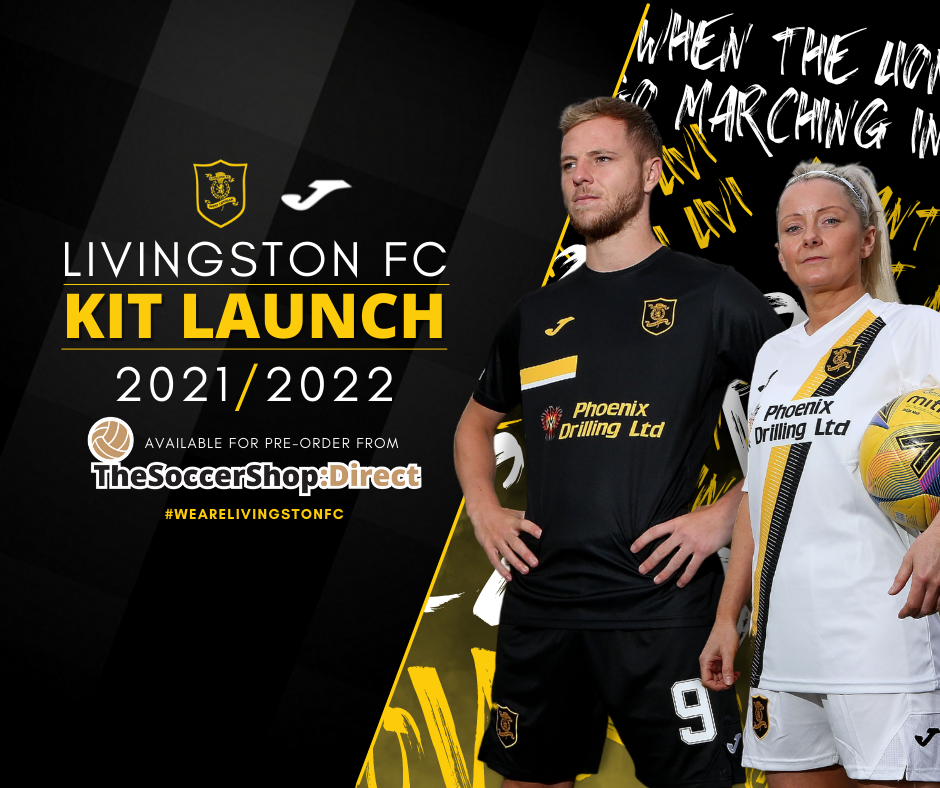 We're delighted to unveil our brand new 2021/22 match kits in partnership with Joma Sport and The Soccer Shop:Direct.
Our all black home kit and all white away kit will both, again, feature the logo of main sponsor Phoenix Drilling across the front with stadium sponsor Tony Macaroni on the rear of the shirt, above the player names.
We're also delighted to welcome TheFutbolCoin on to the shirts, with their logo also on the rear, below the player number.
Both kits are available for pre-order, with the replica shirts due into stock at the end of the month. A full, new range of leisurewear and accessories are available immediately in our refurbished and revamped club shop as well as on our brand new online club store.
You can visit the online shop here – livingstonfcdirect.co.uk
The club shop is open today (Friday 9th) from 10am until 4pm and again tomorrow (Saturday 10th) from 10am until 1pm with a full list of daily opening hours to be announced later this weekend.
Business Development Manager Dave Black said: "Firstly, a huge thank you to both Andrew Barrowman at Joma and Paul Crosbie & Dean McKenzie at The Soccer Shop:Direct.
"It's pretty safe to say that it's almost a minor miracle that we've been able to get the kit picked, signed off, produced and with us for the first-team this weekend and for supporters at the end of the month given the timescales we faced.
"The termination of our previous retail agreement meant we were incredibly tight for getting a kit deal in place and with us for the start of the season. To put some context to that, most teams would have had kit signed off at the tail end of 2020 but we ended up in a position of not confirming our order until mid-April 2021 so it really meant everyone was up against it.
"With that said, this meant that a fully bespoke shirt wasn't going to be possible in time for this season however, the kits that we have chosen were somewhat a middle man in that they are pre-designed templates, however, we've been able to customise them to suit our colours. So, not an off-the-shelf type shirt as we've been used to as we've been able to tailor the colours to make these shirts bespoke to us.
"What that does mean now though is that, already looking ahead to the 2022/23 season, we'll have a blank canvass to work with and will have full reigns on an all-singing, all-dancing custom design – something that we'll be speaking with supporters about later in the year to get thoughts and ideas on what they'd all like to see..
"Paul from The Soccer Shop:Direct has been particularly fantastic over the past few months, working night and day to turnaround our player and coaches training and travel kit as well as constantly liaising with Joma to ensure the safe and timely arrival of the player match kit.
"Paul and Dean have also worked hard to improve the appearance of the club shop which I'm sure everyone will agree is a vast improvement as and when people get the chance to pop in for a look.
"It would also be remiss of me not to give a special mention to our kitman Cheb who has moved to his own schedule around to accompany changing dates and deliveries to ensure the players have all been good to go for training and friendly games so far. His help has certainly been a huge part in ensuring a smooth transition from one brand to another.
"We're absolutely delighted with both kits – a simple, classy design for the home kit complemented with a striking away kit that's been incorporated with our traditional home colours too. The playing squad have all been very vocal in their delight of both kits and are all looking forward to pulling both on as we get up and running tomorrow.
"It was also brilliant to have Vicky Wood and Natasha Frew from our women's team along for the photo-shoot to launch the kit. We've been keen to have a closer working relationship with the women's section since they came on board but COVID has hampered that over this past 18 months. This is certainly the first step of many though and it was great to hear that both players were really impressed with both kits too."