John Bain: a Thistle to a Lion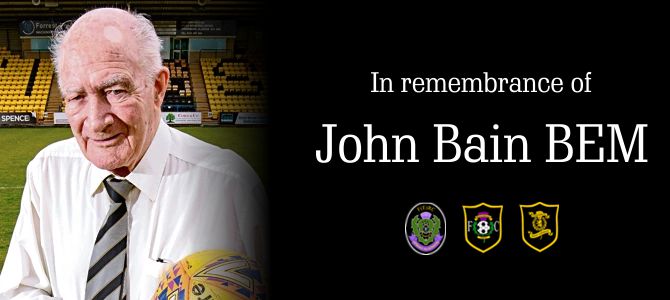 I'd like to acknowledge John Bain's remarkable contribution to Scottish Football, and to say that for all of us at Livingston FC, John is undoubtedly the greatest servant any Club could ever hope for, and we will miss him greatly.
Over 70 years at the heart of the Club game. Few will ever come close to this.
I am proud to have a signed copy of his book, "Public Parks to Premier League" which every Livi fan should read, and remember fondly his own pride in being Honorary President for Life at our Club.
He was a regular in the Directors Box until a couple of seasons ago when he decided that one of the glass boxes would be a warmer, more comfortable place to watch matches, because "I'm getting on a bit." I think he was 95 at this point.
He had strong views on the league structure in Scotland, and supported the pyramid system which allows modern day Ferranti Thistles to climb to the top. He believed that the traditional support for the big clubs continues to hold our Club back, but was optimistic about our future as a Premiership side. Strongly held views to the end.
He'd seen it all: from Amateur Works team in the Welfare League – which he played for, captained, coached ( there was no coaching, only training he told me) – through to the East of Scotland League. Then a change of Club status and name to Meadowbank Thistle in the Scottish Football League, before finally relocating to become the Livingston FC we love today.
He saw more ups and downs than anyone should have to cope with. But he never lost faith.
It is often said when a great figure passes that 'it's the end of an era'. Well, John presided over several eras at our Club, and he was the one constant our fans could look to. If it is the end of an era, what an era it is with John' Club competing well in the Scotland's top flight.
A new era is about to start without John. I hope we can continue to do him proud.
Thank you John Bain.
Gordon Ford OBE
---
Photo: Scottish Sun