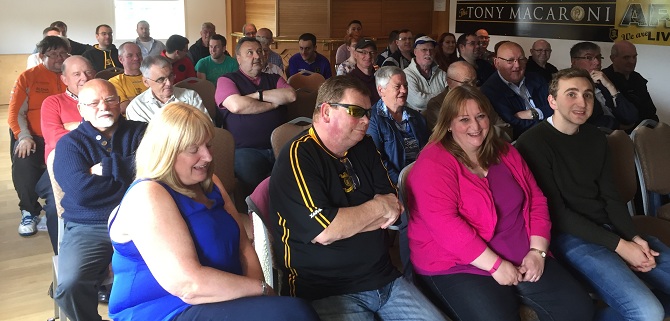 65 season ticket holders attended the lunchtime forum today at the Toni Macaroni Arena to hear about plans for the coming season, and to question Club Officials and the Manager.
The meeting was told that the proposed Board will comprise Robert Wilson, John Ward, Andy Gemmell, and Brian Ewing as Secretary.  The Operating Committee is Neil Hogarth, Alan Scott, Gordon Ford and David Hopkin. Further additions are likely now that almost all the legacy issues have been addressed.
David Hopkin fielded some tough questions about style of play, the need for a striker, team fitness, and the future for Matthew Knox and certain other players.  David reminded supporters that his squad had been back in training for only two weeks and that judgement on style and fitness should be left until preseason finished in around 4 weeks.
He appealed for backing from fans and promised to respond to anyone who wished to make an honest observation about the team. David responded passionately on issues about squad strength, and promised fans that his team will be fit and show determination and commitment in all their games. Players who are not hardworking and honest on the park will not be in his plans. He wants to see young players develop, but agreed that a quick return to the Championship is essential.
Pricing policy, the return of free school children tickets, the future of the proposed Stadium Management Company, and relationship with West Lothian Council were all dealt with by Club Officers, who made an appeal to business leaders to partner with the club in sponsoring youth tickets. Sponsors like Toni Macaroni, David Mulholland, and others have stayed loyal to the Club, and together with 530 season ticket holders to date, and support from the Trust, funding for the season is almost in place, though the drive for more supporters will continue. Fans were told that remaining full time will stretch the budget, but strict governance remains the club priority and spending on players is tightly controlled, unless someone has a spare £million to invest!
Concerns were expressed about failure to gain promotion and job security for the Manager and it was proposed to hold another forum in October or November to discuss team progress.