Livingston FC x Label 5 Scotch Whisky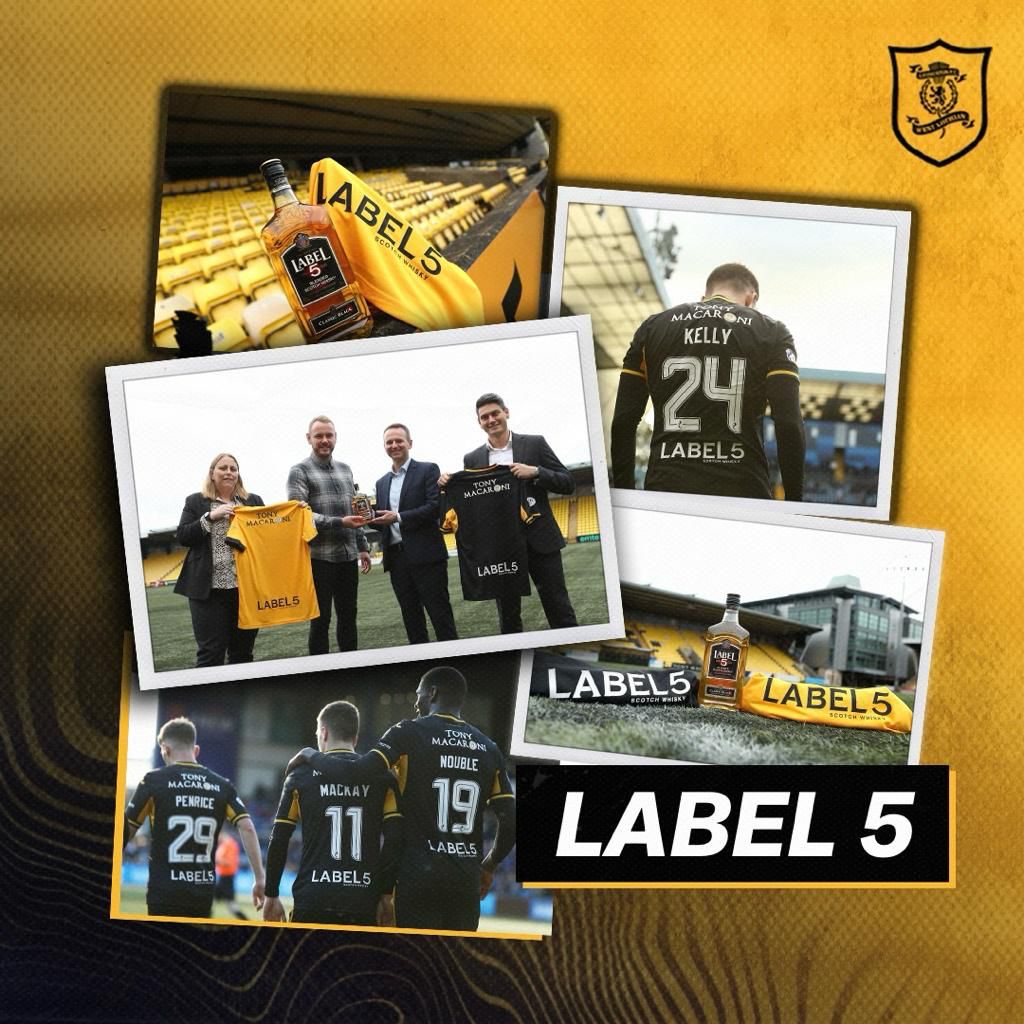 Livingston FC is delighted to welcome Label 5 Scotch Whisky as our latest men's first-team kit sponsor, with their logo taking pride of place on the rear of our player issue match shirts for the remainder of the 2023/24 campaign.
The eagle-eyed amongst our travelling fanbase may have spied the addition of the Label 5 logo beneath the numbers on the back of our player shirts at Kilmarnock last weekend as the new sponsor made their first appearance on the away kit.
Tomorrow, as we welcome Dundee to West Lothian, the Label 5 logo will make its debut on the home shirts as well as on our interview backdrops and trackside advertising spaces too.
The local business, based just along the road in Bathgate, will appear on our first-team shirts, initially, until the end of the current season with a view to the partnership continuing beyond then and into future campaigns.
Label 5 is one of the world's leading blended Scotch whiskies. Produced and bottled by Glen Turner at their Starlaw Distillery site in Bathgate, it is sold in over 100 countries around the world. Jamie Stewart, UK Commercial Director says that the whole Glen Turner business is excited to be embarking on this new partnership with Livingston FC.
He commented: "Starlaw Distillery where Label 5 is produced is just at the other end of the Almond Valley to Livingston FC's stadium, and for many of our staff and their friends and family, this is their home team. We ship Label 5 out to markets all over the world every day and there's a huge amount of pride in the place where it's made and the people who make it here at the site. That's why supporting our local community and the causes that matter most to our staff is so important – and it's why we couldn't be happier to announce this new partnership.
"It's an extremely proud day for all of us to see Label 5 take up it's position on the Livingston FC shirt and thanks to everyone for the warm welcome we've received so far. We can't wait to introduce our whisky and enjoy a few drams with Livingston fans in the months ahead."
Chief Executive Dave Black said:"I'm delighted to welcome Label 5 Scotch Whisky on board as our new lower, rear of shirt sponsor for the 2023/24 season..
"It's great to have another local business partner with the club, with their grain distillery based just along the road at Starlaw, Bathgate – one of just seven grain distilleries in the country.
"A huge thank you to Jamie Stewart, Elaine McAdam and all at Glen Turner and Label 5 for taking this from an initial email and idea, right through to now having the Label 5 logo proudly on display on the rear of our men's first-team match shirts, trackside on our advertising boards and on our TV interview backdrops.
"Jamie was keen to emphasise the company's desire to really grow within and give back to the community so we're incredibly grateful that they've chosen to explore this avenue of sponsorship and advertising with the football club.
"I look forward to working with them over the course of the season and hopefully we can combine to further strengthen the partnership for years to come."
You can check their website out here – https://www.label-5.com/en