Light to Light – Carbon Free across Scotland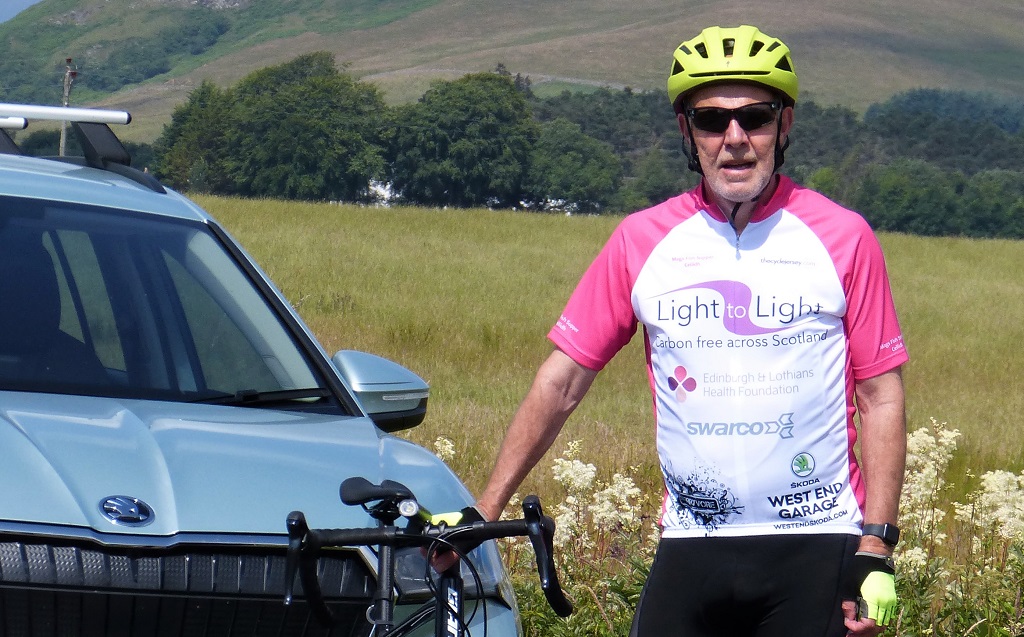 Livi supporter and season ticket holder, Peter West, is embarking on a 200 mile challenge to raise funds for charities which have lost out during the pandemic.
Named 'Light to Light – Carbon Free across Scotland,' Peter, who is the business manager of top Scots band 'Skerryvore,' aims to run and cycle across the country from Ardnamurchan Lighthouse to Scurdie Ness Lighthouse near Montrose. His support vehicle will be an all-electric Skoda Enyaq, ensuring that the entire challenge is an emissions free event.
"Our family have organised a charity event in Falkirk Town Hall, 'Mags Fish Supper Ceilidh,' since 2006, but during lockdown, we couldn't hold the 2021 event. So far we've raised over £185,000 for our charities, but this year we could only hold an online raffle and the £5000 it raised is well short of our regular contribution. I decided to do more than think about an idea I've had for a while to do a cross Scotland run and cycle, and set about more detailed planning, and training,' said Peter.
The challenge will start at Ardnamurchan Lighthouse on 7th September, with a run to Kilchoan, then it's on the bike towards Corran. Other stages will include a run from Kingshouse, Glencoe to Rannoch Station, cycling through Perthshire and onwards to Forfar, before finishing with a run over the last few miles to Scurdie Ness on 11thSeptember. Peter's all electric support car will be driven by his wife, Marion.
"Part of the challenge will include planning the logistics of making sure the vehicle can be charged in some of the more remote areas where the charging network for electric vehicles (EVs) is still being developed."
All money raised will go to the Edinburgh and Lothians Health Foundation charities, the Margaret Lee Oncology Fund at Edinburgh's Western General Hospital and the Breast Cancer fund at St John's Hospital in Livingston.
 "Margaret was my sister in law and she organised the first 'Mags Fish Supper Ceilidh' in 2006. Held in Falkirk Town Hall, the event featured Skerryvore from the start and has been their 'preferred charity' for a number of years. Margaret wanted to recognise the work being done at the hospital where she was being treated for breast cancer. Unfortunately, despite being the first in the world on a new drug trial, she died in 2008 but we've kept the event going. The funds at the Western General are used for a range of purposes, including Patient Comforts, Staff Amenities, Research & Development, Education, Training, and Equipment. At St John's, where her sister Marion, my wife, was treated for breast cancer, the funds are directed to complimentary therapies for breast cancer patients.
"I've not really got any target amount in mind for the challenge,' Peter remarked. 'I'm always astonished at people's generosity when we hold the ceilidh, so I'd be delighted with any amount that can be directed to these causes."
Thanks for support are already due to Skerryvore, to West End Skoda in Edinburgh, to SWARCO who now manage Scotland's charge point network, to Ardnamurchan Lighthouse Trust, to local accommodation providers, and to Falkirk's 'The Cycle Jersey.'
Donations can be made online at: https://www.justgiving.com/fundraising/lighttolight
You can follow the build up to and progress of the challenge on Facebook https://www.facebook.com/l2lruncycleand on Instagram @l2lruncycle
For further information contact Peter West on 07823337710 or email info@skerryvore.com