Livingston FC welcomes Flat Back 4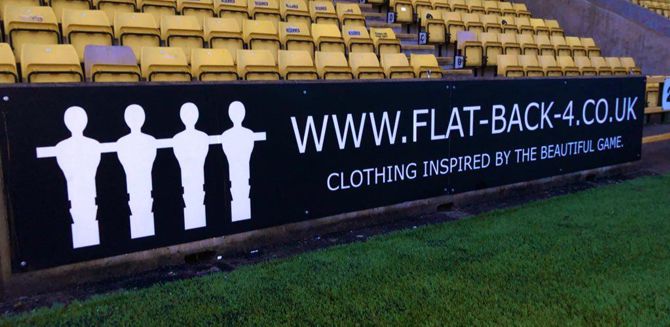 Livingston FC is delighted to announce a new partnership with clothing brand Flat Back 4, with a bespoke range of club themed garments available for fans.
Established in 2019, Flat Back 4 is a clothing brand inspired by the beautiful game, focusing on providing quality and ensuring that supporters always go home happy.
Each item is thoroughly discussed and selected carefully by the team at Flat Back 4 to provide the high quality that they strive to deliver.
Although inspired by football, Flat Back 4 encourage people from all walks of life to check out their brand with something for everyone available within the range.
With a percentage of every sale coming directly to the club, this latest collaboration offers fans the chance to support the club whilst also kitting themselves out in some brilliant club related clothing at the same time.
You can check out the full range on the Flat Back 4 website here – http://bit.ly/FB4LFCRange
Flat Back 4 have also taken out an advertising board along our West Stand so be sure to keep an eye out for that across the live streams and when spectators return to the Tony Macaroni Arena.
Company Director of Flat Back 4, Glyn Haley said: "We are very proud to announce Livingston FC as our first professional football club partnership. Starting as a new company only last year, things have moved much quicker than we ever expected and we are delighted to now take it to the next level.
"We are extremely grateful for the opportunity with the club and to all those who have supported us on our journey so far during these very difficult times."
Club Business Development Manager Dave Black commented: "I'm delighted that Flat Back 4 have come on board with the club and have been able to launch a range of leisurewear that I think fans will love. We were able to see some samples first hand and the quality is brilliant.
"As I've said before, we're always looking at ways in which we can expand our partnership portfolio and we felt that this was another great chance to do just that with an upcoming brand who can offer something a little bit different for our supporters.
"As we continue to strive to open up new avenues to bring additional revenue in to the club given the current climate, we're delighted to start this partnership and we're sure fans will love the garments that Flat Back 4 have to offer."