Operating Fund update – Sunday 29 March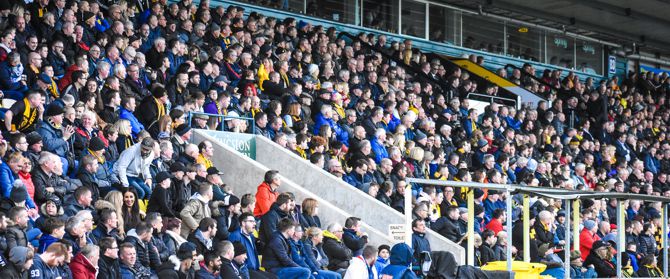 What another strange weekend!? We hope you're all keeping safe, looking after each other and not going too stir-crazy with the lack of football! It's been great to see lots of your messages across social media talking about your favourite memories, favourite games and favourite players – if anything, it's certainly been a great time for reminiscing!
We wanted to bring you a quick update to say a huge, huge thank you to each and every one of you who have joined up to support our Operating Fund since it was created on Tuesday. We now have over 125 individuals who have created Standing Orders which is absolutely brilliant! We can't really begin to thank you all enough for your backing at this time – it's greatly appreciated!
As well as fans, within that 125, there have been a number of our own coaches, staff and directors all setting up Standing Orders to support the fund too which has been incredibly heartening to see. When all's said and done, we're all fans of the club and want the best for everyone.
If you haven't yet joined up and would like to do so, you still can – there's no deadline. Full details on how to do it can be found here – https://bit.ly/2WPkzUP
We're aiming to bring you a full update on Friday with full details on number of people joining up and total monthly amount coming in. In the meantime, we grabbed a quick word with a few of those fans who have joined already to find out what their motivation was for signing up.
Gordon Leslie – "Livingston FC gave me one of the happiest days of my life on the 14th of March 2004. Anything that helps the Club through this difficult time is well worth it."
Davie, Martha & Georgia Martindale – "We have all put in what we think we can afford as individuals, Georgia too (£4 per month from her pocket money!). Livingston FC has given me the chance to rebuild my life in a professional sporting environment. The club has given my family and I some of the best memories we will ever create. By helping out it hopefully gives us many more of those fantastic family occasion. Livingston FC and sport bring so much to our family life."
Andrew Crawford – "I've donated to the operating fund because the club needs us. We've been spoiled by the team's success over the last four seasons so it was a chance to give something back and say thank you! While other clubs are just looking for donations, it's great that Livi are giving those who contribute something in return as well."
Rose McAuley – "I joined because I've loved following Livi for the last 25 years. Sometimes just going to the games has taken my mind off stuff and got me through some tough times. Now I want to help out to make sure it's still there for me after this is over."
David Hastie – "I decided to join the scheme because I'm in a position to help my club who I have supported for years. I read the amazing things that Livi are doing in the community and I want to help with this. The fact that we get rewarded with this as well is just an added bonus that didn't affect my decision but was a nice touch!"
Calum Craig – "It's a great idea to help the club through what's a tough time for everyone. There are much bigger things going on just now, but it hopefully means when things go back to normal, we'll still have a football team to watch."
Stuart Henderson – "Current circumstances leave some time for reflection, and so much of the good and bad times over the year have come from Livi. Doing something that helps ensure there will be more of these times in the future is important for me, so delighted to have the opportunity to help."
Ross Coutts – "A group of us got together to pledge to the club's monthly operating fund – A situation like this is completely unprecedented and leaves the club (along with every other club across the country) with potentially disastrous financial consequences. During this period of uncertainty, there are areas in which we, as fans, are saving money – the additional spend at Almondvale and also the cash we would spend on away trips – so it was a no-brainer to start putting this money towards the future of Livingston FC."
Keith Cullen – "When the football stopped and there was talk about how clubs would struggle I was concerned for Livi. When the Club announced this initiative and it was something I knew I could afford now and over the period I jumped at the chance. It may only be a small amount but ever little helps. I'm not doing it for the incentive I'm doing it for our Club and hopefully we have many more years like the last few!"