Phoenix Drilling Limited – Livingston FC Main Sponsor 2020/21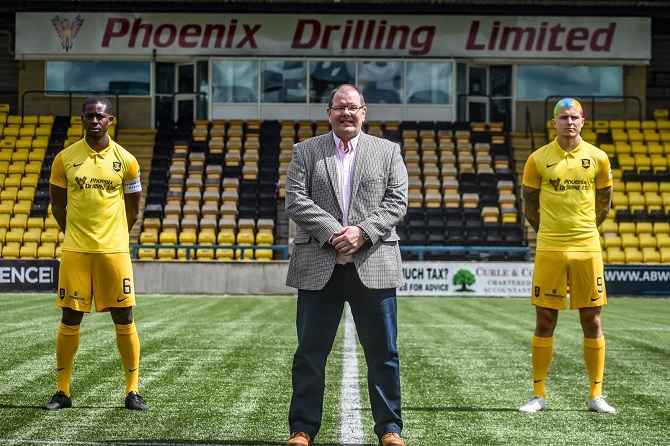 As much as we're always keen to ensure we shout about all new sponsors who very kindly and generously get involved with the club, it's just as important that we remember to acknowledge our equally important existing sponsors too!
 As you'll have seen from last week's home kit launch, Phoenix Drilling Ltd remain on the front, centre of the shirt and that signals a continuation for a second season as the main sponsor of Livingston FC.
Managing Director of Phoenix Drilling Ltd, Stephen Glover, has become a familiar face at The Tony Macaroni Arena, rarely missing a game since becoming involved as a sponsor as well as travelling the length and breadth of the country to watch the team play week-to-week too.
Part of Stephen's package sees him host guests, friends and clients alike in the Phoenix Drilling Hospitality Suite, located at the heart of our main stand, almost neighbouring our Directors Lounge. It certainly hasn't been uncommon for a number of our players to pop-in and visit Stephen and his guests after a game as well as many a director from both Livingston and opposing teams sticking their head in to say hello.
That's in no small part down to the warm and welcoming atmosphere that both Stephen and his wife Susan have created in their Suite, almost operating an open door policy, stopping to chat to everyone who passes by and really contributing to making the matchday experience a fantastic one for all in their company.
Who are Phoenix Drilling though? Based on Nairn Road in Deans Industrial Estate, the company provides bespoke site investigation, instrument installation, monitoring, laboratory testing and site survey work for a range of private and commercial clients across the UK.
They've enjoyed considerable success, commissioned on a wide range of high profile projects throughout the UK – from large scale geotechnical investigations such as the expansion of RAF Lossiemouth and also the newly proposed route of the A701 to water extraction boreholes for major distilleries and fish farms.
Investment in new purpose-built drilling rigs is a must with all of their rigs fitted out to the highest safety standards and are capable of drilling in the most challenging locations, fully serviced and maintained in-house by experienced mechanics and maintenance engineers. Those same mechanics and engineers make up a team fully focused on the provision of comprehensive and reliable service. Highly motivated and friendly, Phoenix Drilling certainly has the experience required to assess, undertake and report on a wide range of ground investigations.
Club Business Development Manager Dave Black said – "Having Stephen, Susan and all at Phoenix Drilling on board as main club sponsor is fantastic for the club. Of course, the financial backing and support is hugely, hugely important but the brilliant atmosphere that they help to create on a matchday within the hospitality area quite simply adds to the experience for all their own guests and the many others who gravitate their way.
"Not only that but it's been great to see them at most of the away grounds too, really showing that their support of the club goes as far as the stands too!
"We're incredibly lucky to have them involved with the club as I've said many times before, the backing and support they provide to a club like ours is absolutely crucial in allowing us to continue to develop both on and off the field. We look forward to continuing our relationship with them for this season and beyond."
Phoenix Drilling Managing Director, Stephen Glover said – "We are absolutely delighted to continue our sponsorship with Livingston Football Club.
 "We look forward to our ongoing association with the club and many more successful match days on the pitch and within our increasingly infamous hospitality suite.
"We wish everyone at Livingston football club every success for the 20/21 season, and hope all are staying safe and well during these unprecedented times."