Progressive Waste Solutions – our new waste service provider!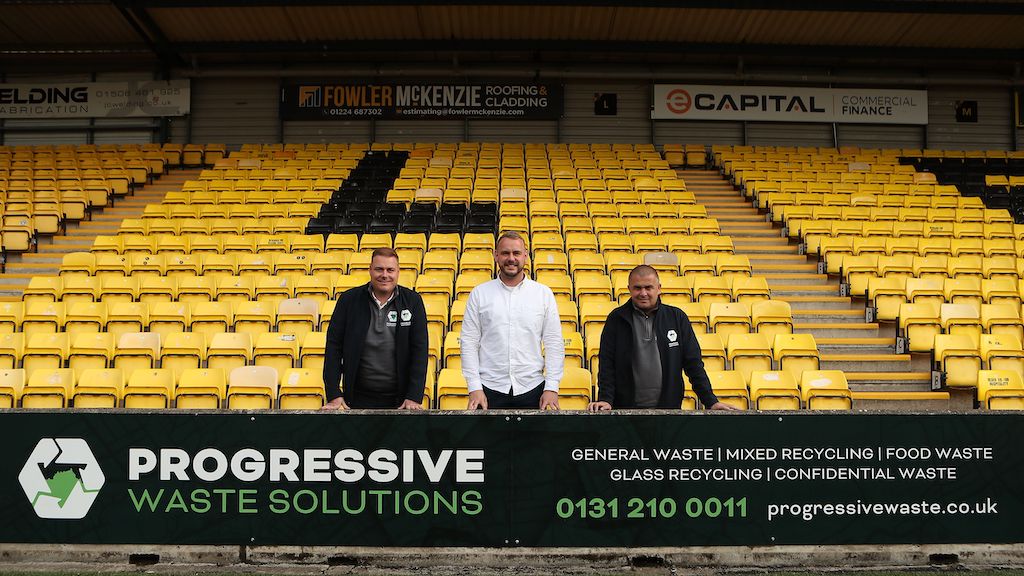 Livingston FC is pleased to announce Edinburgh-based business Progressive Waste Solutions as our new waste service provider.
You'll see all of our new varying sizes of bins in and around the ground, all with the PWS branding – with the business also taking out sponsorship across trackside, upper tier, match sponsorship and player shirt sponsorship.
Progressive Waste Solutions are one of Edinburgh's finest Waste & Recycling companies. With customers consistently awarding 5-star reviews and positive feedback, the company continues to grow and develop a trustworthy and recognisable brand.
The Directors, who have amassed over 20 years in the waste industry, have shaped the company around these core values and believe these values ensure the company always meets our customers' needs and strive to exceed their expectations.
Enjoying rapid growth over the last few years, the company has continued to expand and in 2020 moved to new premises in Bonnyrigg before further expanding into Straiton in May this year.
Covering Edinburgh and The Lothians, Progressive Waste Solutions are perfectly placed to send their fleet of vehicles throughout the City and the surrounding areas.
You can check them out here – https://progressivewaste.co.uk
Craig Dick, director of Progressive Waste Solutions said: "Duncan and I founded the company in 2018 when we felt that the company we were then working for had lost a bit of focus on catering for local businesses in and around Edinburgh.
"This is why we decided to start up our own waste management and recycling company. We saw huge potential in Edinburgh and the Lothians and wanted to bring back the local element where our customers could deal with the same people day in day out.
"As we look to grow the brand in these areas, we were keen to work with Livingston FC to help us do that and we're delighted to come on board as their new waste service provider."
Chief Executive Dave Black said: "It was great to sit down with Craig and Duncan and hear their vision for the company and their passion to deliver high customer service was a real winner for us.
"Not only that but the guys were keen to reinvest some of our annual spend with them by taking advertising and sponsorship across the season which helps both the club and PWS with their own brand awareness. This was offer a significant saving for the club in this area which is great news.
"We've already seen a fantastic level of attention to detail in the opening stages of the partnership and we're really looking forward to working them going forward."