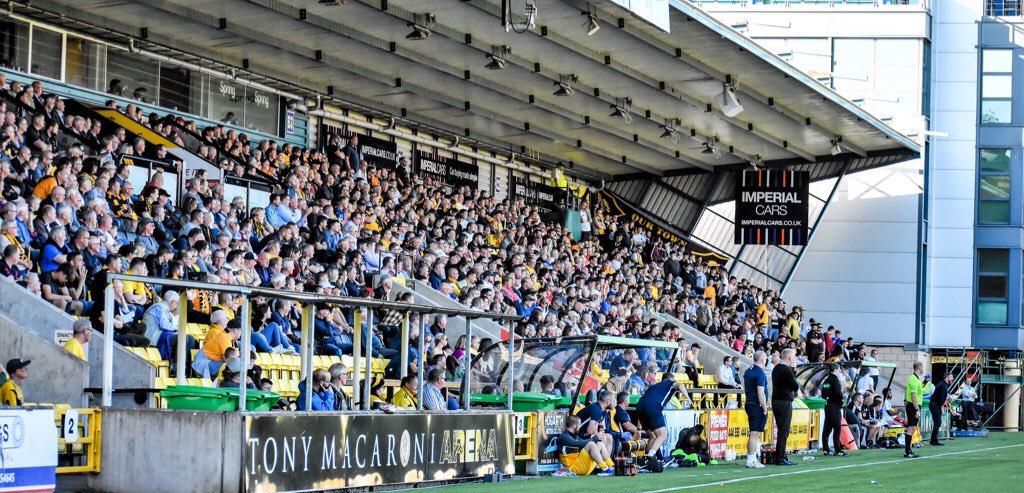 Livingston FC is pleased to announce that Season Tickets for our 2021/22 campaign are now on sale.
We're delighted to be able to freeze our prices in line with last season's "Early Bird" rate as we embark on a fourth consecutive season in the top flight.
Of course, with our existing partnership in place with V12 Retail Finance, it's now more affordable than ever for you to get behind the Lions and purchase a season ticket for the new campaign.
SEASON TICKET PRICES 2021/22
Ticket Type
Price
Price per Game**
Walk-Up Price
Saving per Game
Total Saving
Adult
£300
£15.79
£25
£9.21
£175
Concession *
£200
£10.53
£17
£6.47
£123
Family (2 adults & 2 children)
£650
£34.21
£70
£35.79
£680
Under 16
£50
£2.63
£10
£7.37
£140

*Full time students on production of a current matriculation card, under 18's, over 65's, registered disabled (if with a carer and under 65, full price is paid but carer admitted free).
**Based on 19 home league games (which is subject to change).
As well as our standard season ticket options, we also have availability for season tickets within our Glass Box lounge and Ferranti Suite as well as the option of upgrading to our Presidents Club. Please call for full details on these.
For the time being, season tickets can only be purchased over the phone by calling 01506 417000 or by popping in to reception in person.
Our operating times for purchasing/renewing season tickets are as follows:
Monday to Thursday: 9am until 3pm.
Friday: 9am until 1pm.

Due to the upgrade to our ticketing system, everyone who purchases a season ticket for the new campaign will be issued with a brand new cards ahead of next season. These will be available later in the summer and we'll be sure to let you all know when you can collect yours.
For those renewing season tickets, you'll initially be allocated your usual season ticket seat however, due to the likely social distancing restrictions that will be in place when the new season kicks off, everyone will be provided with temporary seats to allow us to comply with the regulations. Of course, this will be something that will continue to change with time so we'll keep you all updated as and when anything is confirmed.
We've also been carrying out upgrades within the Tony Macaroni Arena to allow us to comply with set requirements in order to achieve our UEFA license which means some seats within the main stand have been removed to accommodate a new media section. We'll be in touch with the affected season ticket holders to advise on this.
With West Lothian currently in COVID protection level 2, this allows us to guarantee at least 500 spectators into the ground as things stand. Of course, this is subject to change at any given time but a move to level 1 would see that number increase to 1,000 which, based on recent seasons, would see us with scope to admit almost all season ticket holders. With those numbers mentioned, it's most likely that for the initial stages of spectators being allowed into the ground at either level 1 or level 2, the allocation will be given to season ticket holders only.
It's safe to say that the 2020/21 season is certainly one that will never be forgotten for fans, sponsors and club staff alike.
Whilst it affected all of us in different ways, it's certainly one that will be remembered for all the wrong reasons. No spectators, watching from home, COVID-19 outbreaks, postponed matches, shortened league seasons, strict protocols and weekly testing.
With that said, Livingston FC continued to push on and, for the first-time in the club's 26 year history, we secured a second, consecutive top-6 finish in the top flight of Scottish football. With almost certainly the lowest budget of the 12 clubs in the division, that is a quite remarkable feat, particularly given the testing circumstances that we all faced.
Not only that, but a first national cup final in 17 years as we went agonizingly close to lifting the Betfred Cup, with our opponents that day, St Johnstone, pipping us by a single goal in the final.
Of course, whilst those achievements require a monumental effort on the park, it's also only possible thanks to that support from our incredibly loyal group of core fans, club sponsors and partners, all of whom stood up and really backed the club last season when it would have been incredibly easy to step aside with the uncertainty that faced the game.
Those core fans who continued to buy season tickets, merchandise, shirt sponsorships and joined our Operating Fund, all played a quite frankly massive part in helping the club to achieve those successes despite all going through uncertain and difficult times themselves as we all adapted to the "new normal".
We couldn't be more thankful to those supporters, sponsors and partners who all continued their backing of the club – something we'll be forever grateful of as we look to get back to the football experience that we all love and enjoy.
As the club looks to continue to grow and improve on the park, that same level of improvement is being sought after off the park and with the support of you, our supporters, we look forward to continuing to establish ourselves as, not only a top flight club, but one that people are proud to be associated with.
We are Livingston FC.
Livingston Football Club Limited is an Introducer Appointed Representatives of V12 Retail Finance Limited for the purpose of credit broking. FCA number is 920386
Livingston Football Club Limited, The Tony Macaroni Arena, Alderstone Road, Livingston, West Lothian, Scotland, EH54 7DN, SC142420