Signed & Framed Betfred Cup Semi-Final Balls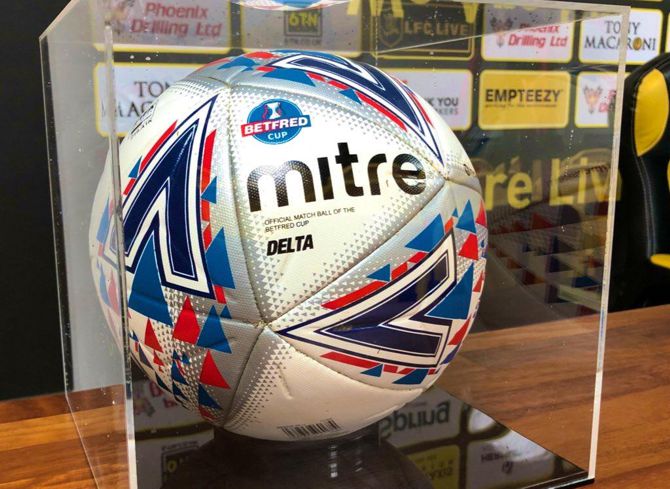 After the success of the Cup Final gin last night, we've got another bit of brilliant, Betfred Cup memorabilia up for grabs – but this time, all in aid of a local, good cause.

In the lead up to January's semi-final against St Mirren, the SPFL provided the club with a number of match balls to use which were the same as the ball that would be used in the semi-final itself. The players used these in the week leading up to the game and then in the warm-up at Hampden prior to kick-off.
Subsequently, in the build-up to Sunday's final, we've been provided with a new batch of balls to use for training and warm-up, meaning we had a surplus left over from the semi.
We've cleaned all 11 of the balls from that day at Hampden, had each member of the starting 11 from that day sign one ball each, and added each ball to a display case, meaning it can take pride of place on that space on the shelf that you've been looking to fill!
We're selling each of these signed, match balls in their display cases at £100 each, with all of the proceeds (after costs) donated to the West Lothian Foodbank.
The West Lothian Foodbank opened in 2012 and in that time, has distributed 571,275 meals to over 40,000 people.
The allocation of the balls will be done by means of a random draw therefore you will not know which player has signed your ball at point of purchase – other than that it will definitely be one of the 11 players who started the semi-final tie.
The draw will be carried out early next week with the balls available for collection from reception shortly afterwards.
To be in with a chance of getting yours, email your name, home address and contact number to dave.black@livingstonfc.co.uk and the first 11 people to be confirmed by way of payment will be in the draw next week.
With only 11 of these balls available, and each one uniquely signed by a player from the semi-final starting team, we fully expect these to sell out fast so be sure to move quickly to get yours and bag another bit of club history.
For more about West Lothian Foodbank and what they do to help the local community, see here:
https://westlothian.foodbank.org.uk