Taylor Roofs – Official Technical Area Sponsor 2022/23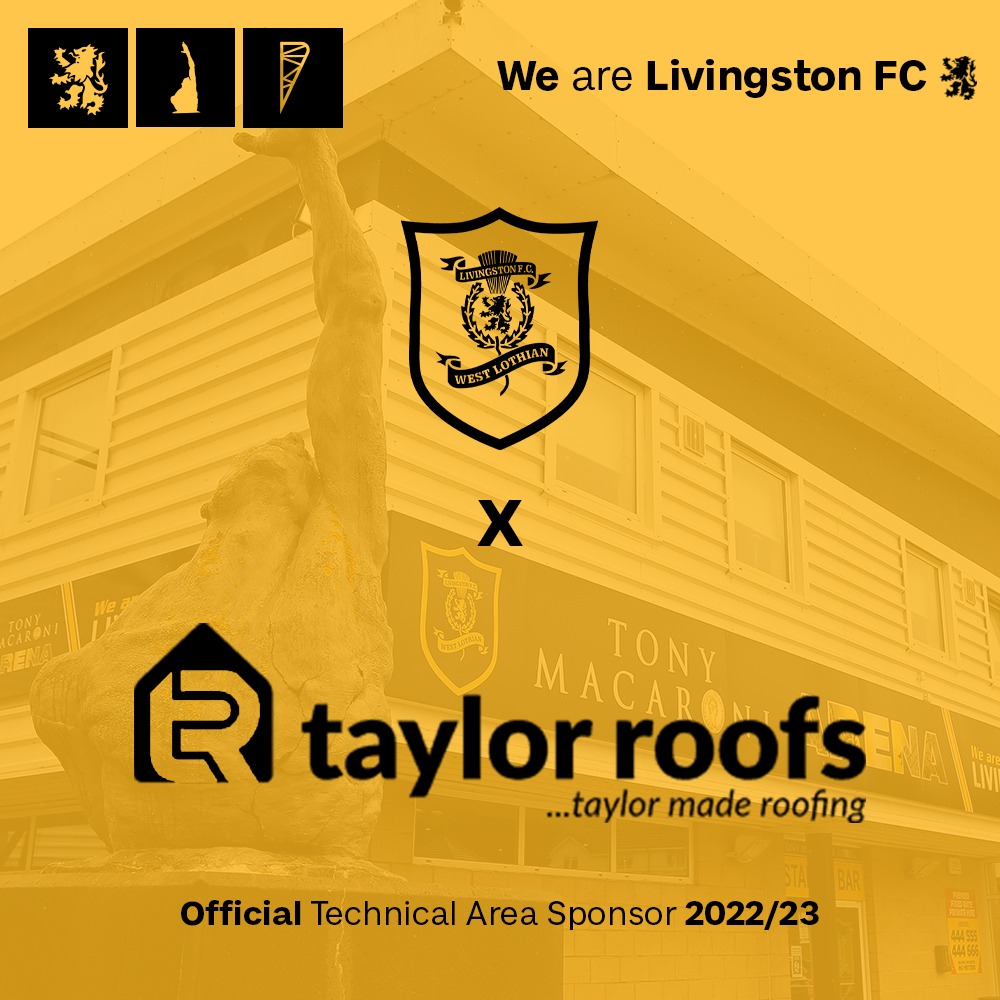 Livingston FC is delighted to announce local business and friends of the club Taylor Roofs as our official technical area sponsor for the 2022/23 season.
Based in Standhill Industrial Park, Whitburn Road, Bathgate, the award winning roofing company have already been on show for the 2020/21 and 2021/22 seasons with a pitch side advertising board and advertising spaces left and right of both the home and away dugouts.
Taylor Roofs are a family run roofing business covering West Lothian and the surrounding areas. They are now West Lothian's largest and most trusted roofing company for homeowners with over 500 positive online reviews . With a team of 17 roofing operatives and a customer care team based in their Bathgate offices they are the go to company for 100% peace of mind.

Owner of Taylor Roofs Jamie Taylor said: "At Taylor Roofs, two of our main values are Trust and Giving Back so when we got the chance to get involved with our local club to take part in a raffle to win an advertising board we snapped at the chance.
"We won the raffle which meant we would have a pitchside board for the season. This was the beginning of what has been a budding relationship between both Taylor Roofs and Livingston FC and also between myself and club commercial manager Dave Black and first-team manager David Martindale.
"We then went on to sponsor the dugout areas last year and again, further built our relationship with the club and when the opportunity came up to sponsor both full technical areas we were delighted to do our bit and give back to our local club.
"We have been able to provide a lot of local kids with tickets through our continued relationship with Livingston and have done numerous raffles for tickets throughout the season on our social media channels.
"We have also had business through the advertising at the stadium and it has allowed us to really get our brand out on the televised games.
"On top of this myself and my family are now season ticket holders as it's difficult not to get invested with supporting the club when we have been able to get so close to staff and players.
"We would like to wish the club, staff, players and all the fans a great season ahead and will look forward to further weaving our way in to the fabric of our community and continuing in our endeavours to make taylor roofs a pillar of the community."
Head of Commercial & Media Operations Dave Black said:"Jamie and I connected and started speaking on LinkedIn a year or two back. I had noticed the growth and success that Taylor Roofs were having and Jamie had been impressed with that we were doing as a club and after getting to know a bit more about each other, Jamie's business and the football club, Jamie got involved in our commercial raffle and ended up being the winner of a pitch side board in the draw.
"We continued to speak over the season and when we promoted the chance to sponsor the 4 areas either side of both dugouts, Jamie got in touch for more information as he was keen to get the business more involved on the advertising side with the club and appreciated his success in the raffle last season. Fast forward a further year and with the dugouts themselves available to sponsor, it was a natural progression for Jamie for his own brand awareness.
"It's a fantastic area to sponsor, with TV cameras having a particular interest in management teams on a match day – both our own and that of the opposing team. The Taylor Roofs logo will be broadcast to millions of viewers on matches picked live for Sky Sports or Premier Sports coverage and BBC highlights programmes.
"Jamie and Taylor Roofs as a business have been a terrific success story in recent times and have shown a great endeavour to grow and engage with the local community in West Lothian. I'm delighted to have them remain on board and hope that the advertising leads to more business and more success for the company."