Taylor Roofs our new Technical Area Advertising Board Sponsor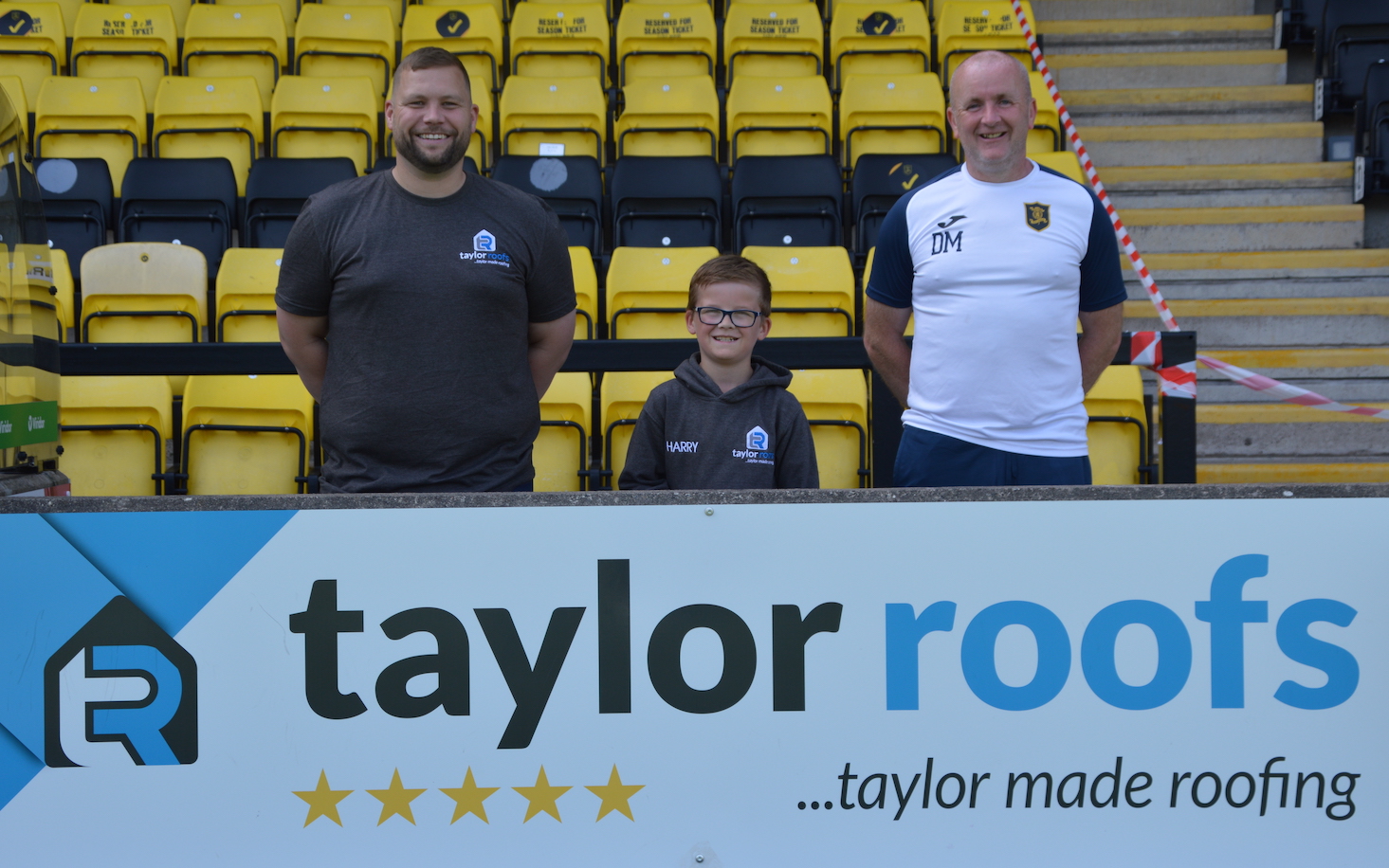 Livingston FC is pleased to welcome local company Taylor Roofs to the club after they signed up to sponsor the advertising boards either side of our technical area.
Based in Standhill Industrial Park, Whitburn Road, Bathgate, the award winning roofing company have already been on show for the 2020/21 season with a pitch side advertising board but have now taken out the advertising spaces left and right of both the home and away dugouts.
Taylor Roofs are a family run roofing business covering West Lothian and the surrounding areas. They are now West Lothian's largest and most trusted roofing company for homeowners with over 500 positive online reviews . With a team of 17 roofing operatives and a customer care team based in their Bathgate offices they are the go to company for 100% peace of mind.
You can get in touch with them on any of the details below –
Website – https://taylorroofs.co.uk
Email – info@taylorroofs.co.uk
Call – 01506 353806
Jamie Taylor, Managing Director of Taylor Roofs said: "We won a pitch side advertising board last season in a commercial raffle that the club ran, and it was great to see our brand on live TV and in newspapers, as well as being on show to our local community.
"So when the chance came up to sponsor both dugouts, we knew it would provide great coverage again for our brand and also allows us to maintain one of our main company values which is "giving back to our community".
"I would like to thank Dave Black and David Martindale for giving my young son Harry the opportunity to meet the manager and play on the pitch when we came down to see the boards in person – I'm sure it's a day Harry won't forget!"
Livingston FC Business Development Manager Dave Black said: "Jamie and I connected and started speaking on LinkedIn around this time last year. I had noticed the growth and success that Taylor Roofs were having and Jamie had been impressed with that we were doing as a club and after getting to know a bit more about each other, Jamie's business and the football club, Jamie got involved in our commercial raffle and ended up being the winner of a pitch side board in the draw.
"We continued to speak over the season and when we promoted the chance to sponsor the 4 areas either side of both dugouts, Jamie got in touch for more information as he was keen to get the business more involved on the advertising side with the club and appreciated his success in the raffle last season.
"It's a fantastic area to sponsor, with TV cameras having a particular interest in management teams on a match day – both our own and that of the opposing team. The Taylor Roofs logo will be broadcast to millions of viewers on matches picked live for Sky Sports or Premier Sports coverage and BBC highlights programmes as well as all other home games being streamed for season ticket holders and those purchasing on a Pay-Per-View basis for as long as we can't permit access to 100% capacity.
"Jamie and Taylor Roofs as a business have been a terrific success story in recent times and have shown a great endeavour to grow and engage with the local community in West Lothian. I'm delighted to have them on board and hope that the advertising leads to more business and more success for the company."