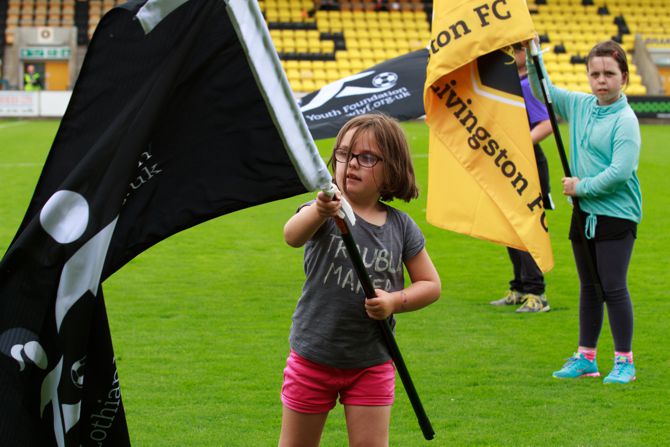 Saturday saw the first of our new Grassroots Initiative Flag Bearers.
The flags will be a feature of every Livingston home league game this season. Six lucky youngsters will be chosen from the Grassroots Initiative Youth Groups that have signed up to this scheme, or as a participant in one of West Lothian Youth Foundation's football coaching programmes, to wave the flags as the teams enter the pitch.
For the thumping victory against Stranraer on Saturday, the 6 youngsters were chosen from one of West Lothian Youth Foundation's Summer Holiday Camps.
There are still tickets available so don't delay sign up today! Details about the Grassroots Initiative are below:
The West Lothian Youth Foundation are teaming up with Livingston Football Club to deliver a fantastic and exciting new initiative to local primary school children and community groups of West Lothian for the 2016/2017 season. Livingston FC has always been a family friendly club fans are the cornerstone of any football club, with the younger generations providing the best opportunity to build a true fan base at Livingston FC. The Grassroots Initiative has been created to re-engage the club with the local community.
So what is the Grassroots Initiative?
This is a Community Sponsorship Scheme which invites companies and/or individuals to sponsor tickets to Livingston FC home matches for the schools and community groups in their local area. The aim is to provide the opportunity for children to experience a match day courtesy of their sponsor. The sponsor will benefit through recognition in the wider community and with customers who measure social responsibility initiatives.
There will be a special section of the stand set aside for the Grassroots Initiative ensuring that groups can sit beside each other and cheer on the team.
Who can apply?
West Lothian Primary Schools
Boys & Girls clubs based in West Lothian (Up to the age of 16)
Any community group with youth activity based within the county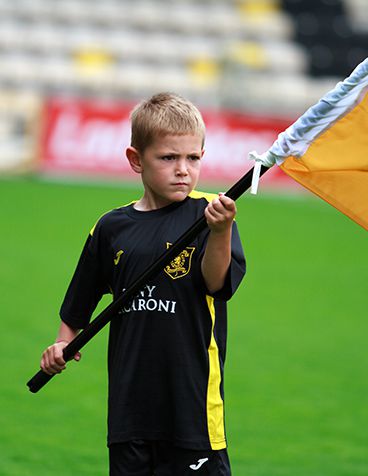 On successful application the school, community group or local football club will then become a Grassroots Initiative Partner.
Each Grassroots Initiative Partner will be given a set number of season ticket books which will allow the children to attend a Livingston FC home match for free.
How each Grassroots Initiative Partner manages their season tickets books is entirely up to them however it is essential that the tickets are used at each home match. Each ticket will gain one child (Under 16) entry to a home league fixture match. All sponsored child tickets must be accompanied by an adult however Livingston FC are more than happy to allow one adult to accompany up to ten free child ticket holders.
All children taking advantage of the Grassroots Initiative must be supervised by a responsible adult whilst attending a home league fixture however West Lothian Youth Foundation team members will be on hand to answer any questions and support those watching the match.
Additional benefits for Grassroots Initiative Partners
Not only do the Grassroots Initiative Partners gain sponsored child tickets but they will also be given the opportunity to take part in specially arranged match day activities. This could include taking part in half time entertainment activities on the pitch, flag bearers or even ball boys and ball girls.
So what are you waiting for, sign up to become a Grassroots Initiative Partner and help support your local professional football club!
How do you get involved in the Grassroots Initiative?
If you would like your school, community group or football club to become part of the Grassroots Initiative you should make contact with West Lothian Youth Foundation on 01506 417000 or email info@wlyf.org.uk.