Livingston FC awarded Best Management Team Award in the Scottish Premiership (Mid-Season) by Nordensa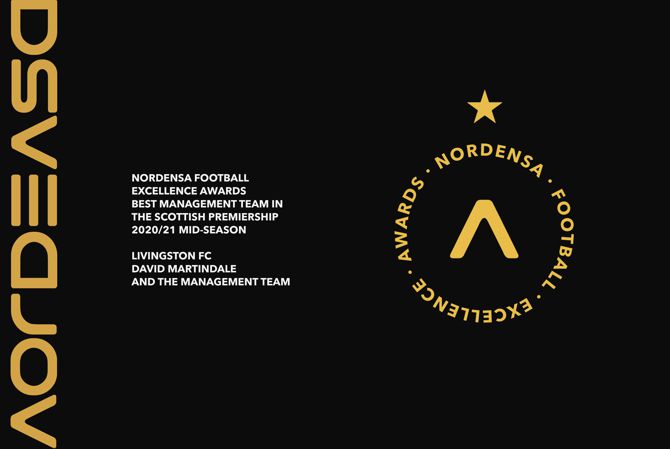 Livingston FC was pleased to be contacted by London-based Football Intelligence company Nordensa to inform us that we'd been recognised with the mid-season Best Management Team award in the Scottish Premiership.
Nordensa ® Best Management Team Mid-Season™ coefficient is calculated by dividing the Total Team Value, as estimated by Transfermarkt, by the number of points accumulated in the league. The lower the cost per point, the more efficient the management team with only teams in the first half of the table considered.
Nordensa is a London-based Football Intelligence team of football analysts, part of Heraldist Europe Group. They create coefficients that uncover the world's true football heroes. They award "beautiful football and exceptional managers rather than teams that play a boring, pragmatic football" or that have "disproportionately high transfer budgets".
Nordensa explained: "The team grabbed 31 points in 22 games and finished the mid-season in the 5th position, while starting the season with a team valued, according to Transfermarkt, at only €6.4M.
"The Nordensa ® Team Value Per Point Index shows that Livingston FC has a total team value cost per point obtained in the first half of the season, of only €206.000. This makes it the most efficient team of any team that finished the mid-season in the top half of the league.
"Among the teams that finished in the top half, mid-season leaders Rangers, with a team value of €53.8M in the beginning of the season, finished the mid-season with €868.000 team value cost per point, while the second best team in mid-season, Celtic FC, with a team worth €83.2M team value early season, finished the mid-season with €1.808.000 team value cost per point, which makes it the least efficient team in the league."
You can read further details here – https://www.nordensa.com/nordensa-news/scotland-premiership-best-management-team-mid-season