A quick chat with Ciaron Brown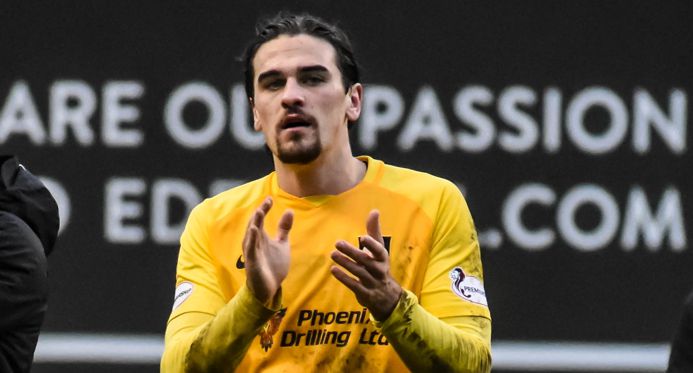 Brilliant news on your Northern Ireland call-up. You must be delighted?
"Yeah I'm really happy. I got called up in September last year off the back of being here first-time round but this time, I've played a lot more games, haven't come out the team and have been playing well so it's nice to be recognised for that."
You made your debut for Northern Ireland back in September last year – what was that like? 
"It was surreal. I didn't really expect it because I got called up for the U21's then drafted in to the senior team so it came as a shock. I made my debut and it was a really good game – we won 1-0 and I really enjoyed it and thankful I was given the opportunity."
This is now your second spell at the club – do you feel a difference this time round from the last time?

"Yeah, I think last time round it was the clubs first season after promotion and we didn't really know what to expect so our aim was just to stay up where this time, the aim is probably still to stay up but we've gone past our expectations and probably now looking to push for top 6. We've set our own expectations and standards higher this time round now that we know what the league is all about."
The gaffer and Davie claim you only join in January so you can go for the warm weather training…
"Yeah, it seems that way! In January, we all just need a holiday! Joking aside, it just hasn't seemed to work out for me to join in the summer the last two seasons so it's been January both times."
You've been virtually ever present since returning, have you enjoyed getting back to playing regularly?
"Yeah, 100%! It's all I want to do – I just want to play football so wherever I can do that, I just want to play as many games as possible at as high a level as possible. Obviously, Cardiff want me to come here, perform, get better and go back and see what happens."
You seem to have formed a good relationship on the park with Jon Guthrie – how is it playing alongside him and more recently, Efe too?
"Yeah, it's really good. It's really easy to play alongside Jon because he talks and we understand each other's game well so it's easy and with Efe, you know what he's about and he's played so many games so when he talks, you really want to listen. We have a good understanding between the three of us – there's no egos."
A great result last week against Celtic – how do you prepare for playing against guys like Edouard, Griffiths etc.?
"We just treat them the same as every other team. At the end of the day, they play in the same league as us and the rest of the teams in the division so it's up to you to make sure you go out and play to the best of your ability.
Well done on winning the clubs Player of the Month award for February. As a loan player, is that even more satisfying knowing that you have the fans on side?

"Yeah, it feels good when the fans vote because it means they're noticing something you've been doing for the last month. It can be a bit harder for a loan player to win it with fans not really knowing you as well as other players so for them to recognise I've been playing well is nice.
It's a big few weeks for the club given how close we are to a top 6 place – is that now the aim for the team?
"We're just taking it game by game. Obviously, every person in the changing room from management to players wants to finish in the top 6, that's no lie, but we can't just look for top 6 – we've got to look at each game as it comes. We've got Hearts up next and they've picked up a bit of form so won't make it easy. We just need to do our job and hopefully, when it comes to the split, we'll have done enough to finish in that top half."
As it stands, you'll return to Cardiff at the end of the season – what's your real aims and aspirations in the game?
"Simply to play as many games as I can. Short-term, realistically, we want to get top 6 and push on but when I go back down the road, I want them to see I've been playing games, got better and have a bit of experience now and hopefully come pre-season, I'll be able to find a place in that team and play every week.