Hope CBD – Centre Circle Cover Sponsor 2020/21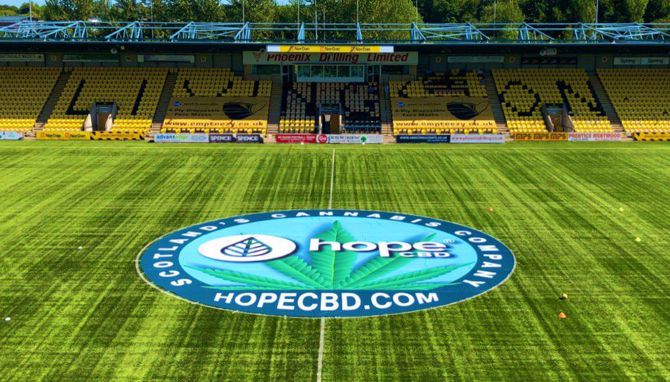 Livingston FC would like to thank Hope CBD who have very kindly sponsored our centre circle cover for the 2020/21 campaign.
For those tuning in to the live stream on Saturday, you'll have likely seen the cover in position pre-match as the sides warmed up – with the cover filling the entirety of the centre-circle space before the game.
Hope CBD Scotland is based in Hamilton and service the CBD market in both the UK & Europe. Here's a bit of background to their origin:
"We are a small company that started, like many, out of suffering. In our case, we had a family member who suffered from a chronic pain condition called Fibromyalgia. After endless hours of searching for relief someone asked, "Have you ever tried CBD?"
This question set in motion a chain of events that eventually led to the creation of HopeCBD. Searching for quality products was not easy nor without its challenges. Not to mention the CBD market in the UK was not by any means as "mainstream" as it is just now. This was reflected in the quality of what we received. Our search included receiving products with handwritten labels moreover, questionable products, questionable quality and this did nothing to instil confidence.
However, our products are all 5 Star Reviewed, Certified organic & lab tested to ensure quality and Cannabinoid content. These products can be ordered securely through our website, they're shipped by DPD with tracked delivery.  Additionally, all products are beautifully presented with the relevant information shown on all packaging. Not to mention our customer service team are always on hand to answer any questions our customers have."
You can check out their website here – https://hopecbd.com
We thank Hope CBD for their support of the club – keep an eye out for their cover pre-match, particularly this weekend with our game taking place live on Sky Sports.