After a superb day at Parkhead yesterday I feel it's time to make it official: yesterday was my Last game as CEO and a Director of Livingston FC.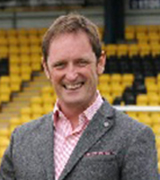 It's time to get some new investment and talent into the club. If the town and fans are serious about being a top flight club then it's time to move forward. It's been a smile and I've loved every minute of it. Back to real life and paid employment for me.
I have an opportunity to get Fasteq back through Spring Solutions which is a huge opportunity and one that could be amazing for my family. I simply don't have the time required to put into Livingston FC that I once did. It was basically a full time unpaid job for three years.
I shall still be around sponsoring Livingston FC for the foreseeable future and doing what I can when I can.
To every Livingston FC fan out there, let's try to get every fan we know to encourage others to buy a season book this coming season. Let's keep defying the odds and give this town a chance to have Premiership football in the coming seasons.
Yours in sport
John Ward
(Former CEO, now a passionate supporter)