Season Ticket Relocation for Red Zone Areas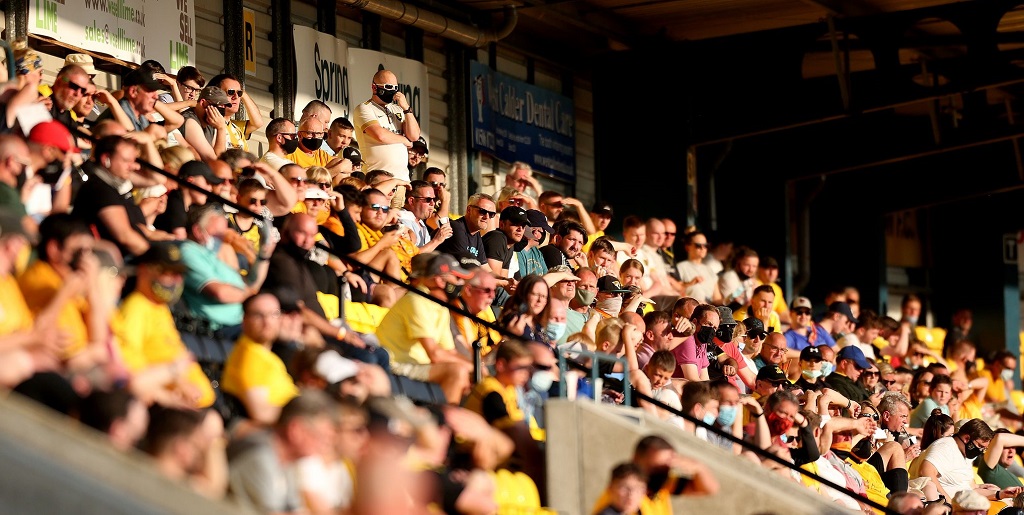 Due to Government legislation, players and staff at the football club must still adhere to 2 metre social distancing, red zone bubble at present.
This, of course, means that on a matchday, both ours and the opponent substitutes and coaching staff will still have to be seated in the stand in the areas directly behind both dugout areas.
The knock-on effect that this has means that some season ticket holders in certain seats within sections A3, B1, B3 and C1 will have to be moved temporarily until the restrictions lift on players and staff, allowing them to return to the dugout as normal.
The exact sections, rows and seats affected are as follows:
Section A3:

Rows A-E (including E) – Seats 47-54 (including 54)
Rows F-K (including K) – Seats 51-54 (including 54)

Section B1: 

Rows A-J (including J) – Seats 55-76 (including 76)

Section B3: 

Rows A-J (including J) – Seats 93-114 (including 114)

Section C1:

Rows AA-E (including E) – Seats 115-122 (including 122)
Rows F-J (including J) – Seats 115-118 (including 118)
If you're season ticket seat is one of those mentioned above, to adhere to the legislation set by the Government, we'll automatically relocate your seat for the time being to the best available seat as close to your current seat as possible.
If you attend the games yourself, we'll relocate your seat and when you collect your season ticket card when available next week, you'll be given the card for your temporary seat. This means that anyone who has a season ticket in the affected areas but sits themselves doesn't need to get in touch – this will be done automatically.
If you attend the games in a group, whether that be with family or friends, and you're currently seated directly next to each other in one of the affected areas, if you email us on [email protected] with each of the names and Account ID numbers for those in the group, we'll ensure you're temporary seats are kept together too. (You'll find your Account ID on your 20/21 season ticket. If you can't find this then please call on 01506417000 and we can provide this for you).
For those who do sit together in the affected areas, you must email us the above details by 12pm on Sunday (15th August) to allow us to relocate you together and have your temporary tickets printed ahead of next weekend's clash with Motherwell.
Once the legislation on this lifts and you can return to your correct, season ticket seat, we'll take your temporary ticket and swap it with your correct ticket.
This is something we hoped we wouldn't have to do and fully appreciate the inconvenience this will cause some supporters but sadly, we have to adhere to the guidelines and legislation set by the Government which means our hands are somewhat tied on this.
However, we believe this is the best way to resolve the issue for the time being meaning that you'll be able to stay seated together in your current groups and also means that as soon as those restrictions lift, we'll be able to allow you to move back to your correct seat with no possibility of your seat being sold to anyone else.
We kindly ask that anyone who needs to contact with the details on their group does so via the email address given ([email protected]) as our phone lines are incredibly busy at present with ticket sales for Saturday's cup clash with St Mirren and our small yet incredibly dedicated team of staff are working tirelessly to handle those.
The club appreciates your understanding and patience at the minute as we do all we can to work around the restrictions still in place.