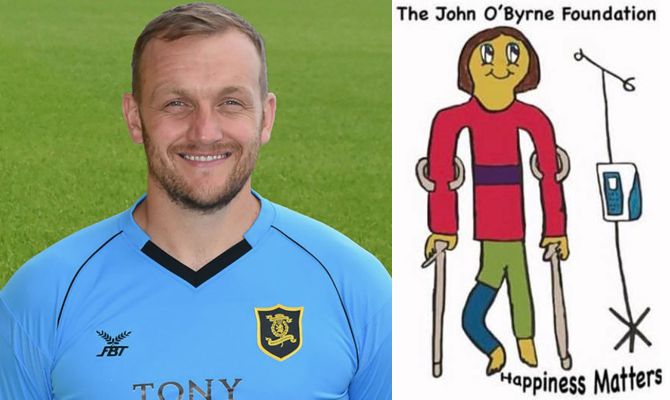 With almost 200,000 votes cast on our twitter poll, the fans have spoken and as a result, goalkeeper Gary Maley has today signed a one-year extension at the club.
It might not all have been exactly as it seemed however but nonetheless, the outcome of the poll has been honoured and "Stretch" will remain at the club for the 2020/21 season.
Of course, there was a bit of a back story to this one so let us take you through it.
Gary is only part-time at the club as he works full-time for GGK Contracts – a civil engineering company. When we were relegated to League 1 for the 2016/17 season, Stretch joined the club on a one-year deal as back-up to Liam Kelly. Since then, that contract has been extended season on season with Gary being more than happy to come and help support the first-team goalkeepers both in training and on matchdays. Of course, Gary has also featured 9 times for the first-team, keeping 4 clean-sheets in the process.
On Monday, Davie Martindale called Gary and asked if he could come to the stadium to have a look at a drainage issue which we've had in the first-team dressing room. Gary came to have a look and whilst in the stadium he and Davie, who are long-term friends having both played in the same team at Junior level (alongside Scott Pittman), began to have a bit of a chat around the fact that Gary was soon to be out of contract.
Gary suggested to Davie that given all that is going and the fact he has a full-time job as it is, he was happy if him being released meant that his wages could be redistributed to the younger goalkeepers at the club to help them through the current period. The chat turned into a bit of changing room banter between the pair with Davie suggesting it would be a bit of light-hearted fun to open it up to the fans via a twitter poll and see if they thought that Gary should say. At this point, assuming there would be 400-500 votes and a bit of good humour amongst the fans and players, Davie would donate £1 to charity for every vote received. In exchange, Gary suggested that if the poll went in his favour, he'd donate two months wage, whilst we still remain without football, to charity too.
So there we had it. 6pm on Monday, a poll would go out on Twitter, a bit of light-hearted banter would ensue between players and fans and at the end of it all, a charity would benefit either way.
Fast forward 4 hours and by 10pm on Monday evening, the poll had already amassed over 100,000 votes, Livingston FC was trending on twitter, press from all over the WORLD were getting in touch to talk about it and Davie Martindale was very quickly recalculating that £1 per vote suggestion!
Subsequently, Davie agreed that he'd donate £1000 to charity given the reaction and Gary has continued to stand by his vow to donate his monthly football wage too.
That brings us to the charity in question – The John O'Byrne Foundation.
The foundation was set-up to support children who spend significant periods of times in hospital battling long-term, and very often, terminal illnesses. The aim of the foundation is to support children and their families with holidays, trips, meeting their heroes and even more simpler things like board games, birthday cakes and such like.
You can find out all the information about the foundation as well as being able to donate to the cause via their JustGiving page on the link below. As you can imagine at a time like this, smaller charities doing good work in the community can really suffer in terms of donations and lack of exposure so if you can help by either spreading the word of the foundation or making a donation, that would be a huge, huge help.
https://www.justgiving.com/crowdfunding/barry-hicks
So there you have it, perhaps a football first in terms of the poll but some huge awareness now directed the way of the charity and an overwhelming statement that over 100,000 people want to see Stretch remain in Livi colours!
We appreciate that some may not have initially received the poll in the light-hearted, good humoured way in which it was absolutely intended but it was only ever meant to raise a bit of a smile at time when all other current news is making that hard to do.
From a fan club in Turkey to the story being published in New Zealand, Stretch may well have just dethroned Marvin Bartley as Livingston FC's new media darling!