The Team behind The Team – Derek White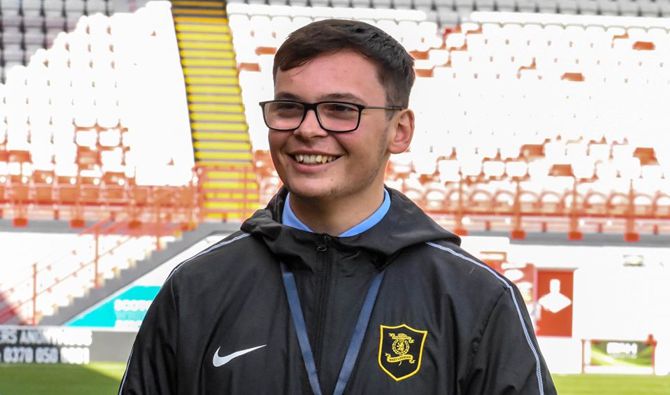 Q&A with Derek White
Tell us about your role as SLO – when did you start, what does it entail etc?
I started as SLO just before our first season back in the Premiership began, so around July/August 2018. The main aim of the SLO role at a club is to bridge the gap between the fans and the board and try to provide fans with the platform to voice their opinions to the board. Throughout the role I have been available for contact via email as the fans wish, and then it is my job to attempt to create action from the club on their opinions.
As well as SLO, you fulfil other key roles at the club too – what are these and what do they involve?
My other roles at the club involve two main areas which are; ticketing & media. First of all, I am mainly responsible for looking after our ticketing systems and being the main point of contact with Ticketmaster. It is my job to create and upload each home game to our Box Office (internal ticket selling platform) and also to our Online Web Ticketing Platform. If there are any teething issues with the system, I attempt to rectify them alongside my colleagues in reception, Karen & Tricia.
Secondly, I am tasked with organising every pre-match and post-match media conference that takes place at the stadium. This involves me sending out weekly emails to the media advising of when the media conference is and then liaising with them to decide what player speaks. I also help to co-ordinate any additional media activities that may need to take place with the manager and/or players. Finally, I also help contribute to the club's media content by conducting various interviews with the players, either written or video.
Your role is a fairly hectic one on a matchday – tell us what that involves?
My role is certainly hectic on a matchday haha! There are three main areas which take up my time on matchday:
Ticketing
Media
Matchday Mascots
I will arrive at the stadium at around 10am on a matchday with my first port of call being to check up on how online ticket sales have been going for the match so we have a rough attendance figure estimate in mind. After this, I then need to set-up the Ticketmaster scanners, which I am sure you are all aware of, to allow supporter's to be scanned into the ground. I need to ensure they are programmed for the correct game and also to scan the correct sections.
After this, my next job is to welcome the matchday mascots to the club and take them on a guided tour of the Tony Macaroni Arena and also let them meet the players!
Once turnstiles open for supporters to enter the ground, I am in radio communication with turnstile operators incase anything goes wrong with their handheld ticket scanner. If something goes wrong with a scanner, it is my job to resolve the problem. I am monitoring the ticket scanners right up until the turnstiles close at around 3:15pm. Once turnstiles are closed, I need to log in to our access control monitor and obtain the attendance figure to pass over to the safety officer.
Also, pre-match I need to ensure the manager takes part in media interviews (television or radio) if requested for. If the game is live on television, there is of course more liaising needing done with the media as they're timings are quite specific. Post-match I again need to co-ordinate any media interviews that are being conducted with the manager or players.
Luckily, I usually get to watch the match, normally only missing the first 15 minutes, haha!
You were already a well-known face from your time as a coach at WLYF – is coaching something you're still keen on?
Yeah, I still enjoy coaching but unfortunately, it has taken a back seat for now with my time being taken up with other jobs and university. I still coach with WLYF for one hour on a Saturday morning 9-10am, before heading round to the front of the stadium for my matchday job. I am also going to be joining the Blackburn U20's coaching team for the 20/21 season…whenever that may be!
You still play football yourself, captaining Blackburn U20's in the EoS U20 league – where do you play and what other teams have you played for?
I usually play either Centre-Back or Centre-Mid, but this season I have mainly played Centre-mid. This will be last year of playing, as I am unable to move on to the Seniors at Blackburn as they play on a Saturday afternoon – which of course clashes with my job.
Previously, I actually played with Livingston from Under 13s all the way up to Under 20s (at the time).  From there, I moved to Blackburn U19's where we won the County Cup at Falkirk stadium and then of course moving up an age group to Under 20's, which is where I am now.
As a lifelong fan of the club, talk us through your earliest Livi memory?
It maybe isn't my earliest memory as an fan, but one that certainly sticks out in my mind was the 2015 Petrofac Cup Final win. It was a tremendous day out, I remember heading up to Perth with my mum, dad and 2 of my friends and the sun was absolutely scorching. The astroturf pitch at St.Johnstone had plenty of entertainment on it and the atmosphere from Livi fans was great! And to round it off with lifting the trophy, it was a day to remember!!
Having been a fan all of your life, it must be nice to be involved with the club and have a chance to help improve and influence things?
I am incredibly lucky to work for the club I support, and it is a real pleasure being able to help try improving and influence some aspects of the club. Sometimes you do need to step back slightly and try look at it from a neutral point of view, as it is so easy to get caught up in being a fan and forgetting you're meant to be working, haha! I think being a fan sometimes encourages me to go above and beyond in my job as I really do just want to see the club doing well.
How would you describe the atmosphere and vibe at the club on a day-to-day basis (prior to the current lockdown circumstances)?
The atmosphere at the club on a day-to-day basis is truly fantastic! It's so hard to put into words to describe the atmosphere. From Maureen the Chef, to the Gaffer, to the players, to the office workers, everyone really does get on and everyone absolutely loves what they do.
You're currently studying at University too – tell us about what you're doing there and what the end goal is?
I am currently just finishing up my third year at University of Edinburgh, and I am studying BSc Applied Sports Science. I chose to do a Sport Science degree three years ago when I was doing a lot of coaching however, now after gravitating towards my current job this isn't the exact area I want to focus on.
After I am finished my Applied Sports Science degree, I am contemplating signing up to do an online Masters in Football Business. This will hopefully aid me more with the current job I am doing.
We've seen you turn your hand to some video interviews lately – is that something you've been interested in or more just a case of dealing with the current isolation circumstances?
I enjoy conducting the video interviews with the players and manager. It isn't something I had necessarily been interested in in the past, it was more just we needed someone to ask the questions and I was that person, haha! However, after throwing myself into these interviews it is certainly something I enjoy – that doesn't mean I am good at it mind you – I think I'll leave the journalism to the professionals!!