The Team behind The Team – Karen White & Tricia McKenna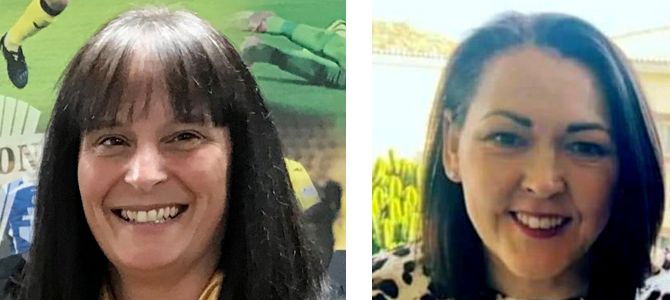 ● When did you both first join the club and how did that come about for each of you?
Karen – I joined the Club in June 2018. I had been approached earlier in the year by John Ward and Davie Martindale about coming in to manage the office due to the Club getting promoted. It was a bit of a dilemma as I was leaving a job that I had been in for 15 years but the Club has always been in my blood!
Tricia – I joined the club in September 2018. At that point, I was looking for a new job and had heard there was a position in the office due to the club being promoted. I was invited to apply and came to interview with John Ward. The rest, as they say, is history!
● What do your usual, work-days comprise of?
Karen – A usual work-day comprises of answering queries via email or phone, invoicing customers, paying the bills, keeping all paperwork up to date, selling match tickets, season tickets and generally helping the staff and players if they need anything. I like to help where I can.
Tricia – Every day is different. There are so many different tasks to do and only myself & Karen in the office. Usual daily tasks include dealing with all manner of queries via email, telephone and at the front desk. These can be from fans, media, scouts and opposing teams. Invoicing, ticket sales, season ticket sales, chasing debtors, reconciling daily sales, prepping for matchday to name just a few!! Sourcing and viewing property for new players is also called upon on occasion.
● How would you both describe the atmosphere and vibe around the stadium?
Karen – It's all really positive! There is a fantastic atmosphere and a great buzz about the place – long may that continue!
Tricia – The atmosphere is electric – it's like prank central most days! It's a very fun and positive environment to work in but you definitely need to have thick skin and be on your toes all the time….no topic is off limits!!
● Your roles changes quite a bit on matchday – what do you both do then?
Karen – On a match day, I have to have staff organised to cover various duties from the car park to selling tickets. I have floats & record sheets for selling tickets along with the various other sheets that need to be distributed on a matchday. There are always last minute additions so these need to be passed on and added. I make sure Hospitality guests are directed upstairs to Cheryl along with any other guests attending the match. When it's time, the team sheet also needs to be put together and distributed to all the hospitality areas, shop and for Scouts from the reception. I also help our chef Mo at half-time and at the end of the game, ensure that all monies are locked away.
Tricia – Match days are manic!! We basically hit the ground running and it's nonstop all day. Make sure floats, paperwork and equipment are all ready for ticket sales and car parking. Preparing and distributing team sheets. I usually do away ticket sales which takes me up to around 3.15pm then I count and record the car parking money and make sure it is locked away along with ticket sales and half time draw monies. I help with the half time draw then print the results and have them distributed around the hospitality, boxes etc. After that I go upstairs and if chef Mo needs any help get her food out the boardroom, ball boys, boxes or presidents club, I help with that. Also, on occasion, I've had to man the carpark if we are short staffed.
● Do you still manage to get out and see the game on a home matchday?

Karen – I do still get out and see most of the game. If anything I usually miss the first 20 mins as I like to make sure staff are ok and sort any problems/ issues they may have come across.
Tricia – I occasionally get out for the last 20-30 minutes of the second half but this is only for the smaller/quieter matches. For the big games, it's much busier and there usually isn't any seating available so I don't go out for those games.
● Karen – You've been a Livingston fan for a number of years – it must be nice to be involved "behind the scenes" now?
Yeah it is nice. It's been a massive change for me and in the early days I wasn't sure if I was going to last but all good now.
● Tricia – As someone who isn't an out and out football/Livingston fan as such, have you found yourself getting more into it since working here?

I don't understand football, that's true, but wouldn't say I'm not a fan. I'm very much a Livi fan now! it's difficult to follow the team properly as I only get to see a small part of the home games. I've been to a few of the away games but can't manage to get to them all unfortunately.
● Karen – As a fan, was it daunting walking in on that first day and being introduced to the players as a colleague after years of just being a supporter in the stand?
Yeah it was! I knew of players and staff as I had been a volunteer for a number of years, but nothing prepares you for that first day. I was a nervous wreck. One thing is for sure – you have to get into the swing of it pretty quick!
● Tricia – is there any particular player, coach or staff member who helps brighten up your working day?

No one person in particular as everyone has impact on your day. I would class Karen and Mo as my best buddies and definitely make me laugh and cheer me up if needed. The backroom/coaching staff are insane!!!
● Karen – Over the years of following the club, is there any one player in particular who stands out as having been your favourite?
Craig Halkett. He brought strength and organisation to the defence. 110% every game.
● Karen – Given the ups and downs of the club over the years, it must be nice as both a fan and an employee to see the club being run much better now?
It's fantastic. Everyone involved has the best interests of the club heart. People are passionate and only want the best.
● How have you both been dealing with the current "lockdown" situation? What have you been doing to keep busy?

Karen – I have been doing a spot of DIY and been getting out on my bike for exercise. Just trying to keep motivated as much as possible – and I am certainly missing the football!
Tricia – As someone who struggles with anxiety, I've found it challenging. At the start of lockdown, I made a checklist of daily tasks to keep me focused – simple things like exercise, meditation, reading, family time etc. to give me daily goals to aim for and it has helped immensely. In a household of 5 plus a dog, there has been more than plenty to keep me busy! Home schooling has been different and there is a constant mess but it has been great to spend time with my kids that I don't usually get.
Tricia – A wee, final word from me – 'The best teams are made up of a bunch of nobodies who love everybody and serve everybody and don't care about becoming a somebody' (Phil Dooley)