Tony Macaroni launch Cash For Kids recipe book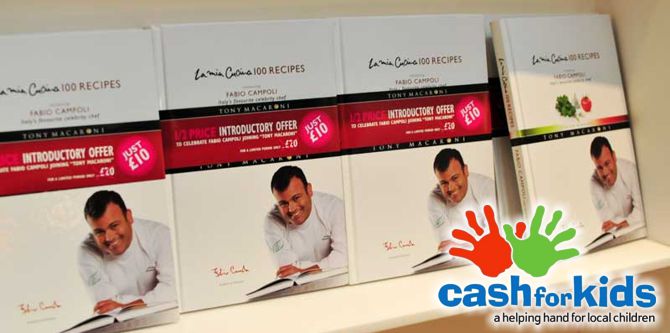 Scotland's premier Italian restaurant group, Tony Macaroni, has launched its first ever cook book with Italy's most renowned celebrity chef and epicurean, Fabio Campoli.
In aid of Cash for Kids, the cook book, "La mia Cucina" – which translates as My Kitchen – brings together 100 of Fabio's most exciting recipes, many of which will soon be featuring on the menu at Tony Macaroni's Livingston restaurant.
La mia Cucina features classic Italian dishes designed for every occasion. It is packed with beautiful photography and each recipe has been written with the home cook in mind and features expert hints and tips from Fabio.
The proceeds of the first 5,000 copies of the cook book sold, around £50,000, are being donated to the Cash for Kids appeal in conjunction with local radio station, Forth One.
The book costs £10 and if any fan wants it signed by the Chef himself at Tony Macaroni's then just take your season ticket up and it will be done for you right there and then.
Buon appetito!