Tony Macaroni to continue partnership with Livingston FC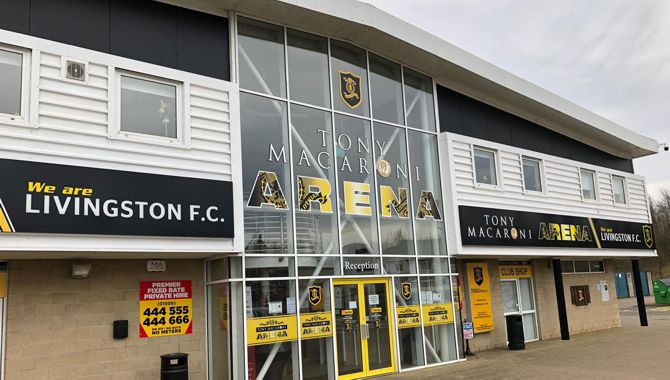 Livingston FC is delighted to announce that long-term sponsors Tony Macaroni have extended their partnership with the club for the 2020/21 season.
The deal marks a 6th season with the Italian restaurant chain as our stadium sponsor and an 8th year with the Tony Macaroni logo appearing on our first-team match kit.
In what has been a challenging time for many, Tony Macaroni was no different and in-line with nationwide restrictions, had to shut their doors during the lockdown period. However, great news this week with the announcement that Tony Macaroni will be re-opening in Scotland on Wednesday 15th July to serve you real Italian food once again!
And then shortly after, the new Tony2Go takeaway will be opening on Friday 17th July within Parkway Retail Square (next to Marini's Fish & Chip Shop), bringing you all an extensive pizza and lasagne menu plus starters, ice-cream and drinks.
During the lockdown period, the Tony Macaroni pizza truck was set-up at the Livingston restaurant and very generously served over 10,000 pizzas free of charge to NHS staff and local carers as a thank you for all of their efforts during the crisis. A quite fantastic gesture!
Manager Gary Holt was also delighted to welcome Tony Macaroni back as sponsor again this season – "It's great to see that Tony Macaroni are continuing their sponsorship of the club next season. We're incredibly lucky to be able to make use of not only their Livingston restaurant, but a number of their other restaurants up and down the country when we travel to away games. The boys love getting their pre-match at Tony Macaroni and it provides a brilliant venue for them all to get together and begin to prepare for each game."
Managing Director of Tony Macaroni, Sep Marini said – "This is a very important partnership for Tony Macaroni and we are proud to be supporting the great Livingston FC for another season.  We love being a part of this local football community and our restaurant teams put their heart and soul into serving fans, staff and players great Italian food up and down the country."
Club Business Development Manager Dave Black said – "A huge thanks to Sep and all of his team at Tony Macaroni for their continued support of the club. The restaurant industry has been hugely affected by the COVID-19 outbreak so it's a fantastic gesture from all at Tony Macaroni to continue with their sponsorship for another season! The backing they provide to a club of our size is crucial in allowing us to continue to develop on and off the field."