Walk with the Foundation: 24 in 12 – 2017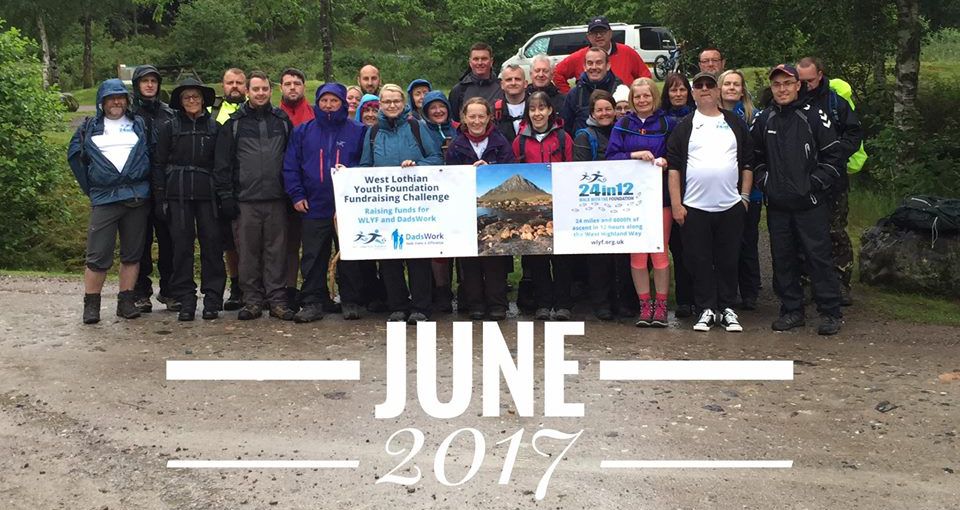 In 2016, West Lothian Youth Foundation and charity partner Dadswork embarked on creating a fundraising challenge to raise funds for their respective charities.
The "Walk with the Foundation" idea stemmed from the SPFL Trust's Football Fans in Training Programme (FFIT), which is currently run at the Tony Macaroni Arena. Participants on the free course wanted to give something back to the WLYF for helping them on the path to improving their lifestyles. They wished to carry on increasing their levels of mobility, weight loss and steps counts by creating a walking challenge!
So, after months of planning, June 2016 saw the first "Walk with the Foundation" take place and was a fantastic success raising almost £10,000 on one of the most spectacular days of the year, sunshine splendid views of Scotland and a great laugh along the way! On the back of this huge success it was decided they would do it again!
And on Saturday 24th June 2017, 27 amazing fundraisers took up the challenge of walking 24 miles of the West Highland Way as part the "Walk with the Foundation: 24 in 12" Fundraiser. Some for a second time in fact!
After 6 months of planning and training, including an 18 mile walk up the Fife Coast, 27 participants left the aptly name "Braveheart Car Park" in Fort William that took to the hills of the West Highland Way. Over the next 24 miles, the walkers, who many had never walked in the hills, let alone walked for 24 miles covered 6,000 ft. of ascent and battled battle heavy rain and 80mph winds at times! Even for second time walkers this gave them a new challenge as conditions were completed different to 2016!
The first of the walkers started to come after only 7 and a half hours! With groups gradually coming in behind over the next few hours. In the end, all walkers completed this year's challenge in less than 12 hours! Which is a fantastic achievement by everyone involved!
They were assisted by a fantastic support crew, who fed and motivated them to the very end!
There is still time to donate to their cause, to sponsor the group please follow this link to their MyDonate page:
https://mydonate.bt.com/events/wwtf24in12/407410
Funds raised will be split equally between West Lothian Youth Foundation and Dadswork. Funds will help both charities continue their fantastic work in the community.
For details on both charities check out their websites
There are already plans to do it all again in June 2018! If you would like to get involved and raise some funds, please email WLYF with your note of interest to [email protected]