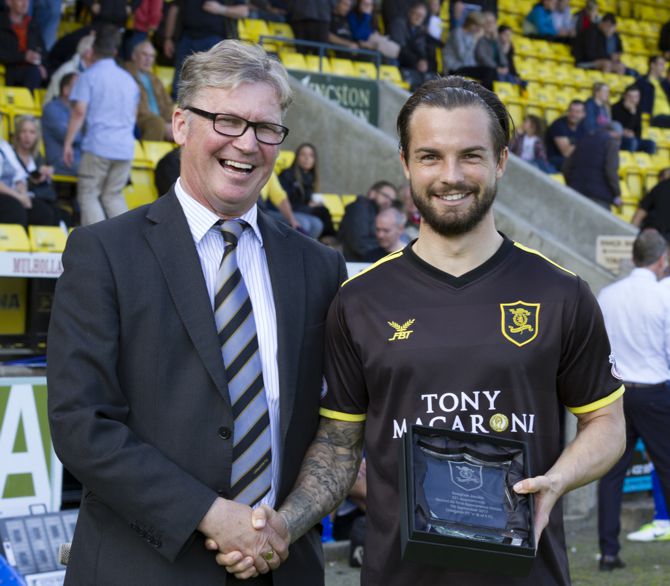 Saturday 24th November 2007 – an 18-year old Keaghan Jacobs makes his first team debut for the Lions, scoring the 3rd goal in a 4-0 Scottish win over Alloa.
Fast forward almost 10 years and the now 28 year old midfielder has overtaken former club captain Liam Fox as the clubs record appearance holder, passing his previous record of 219 appearances.
Game number 220 for "Keags" was our penalty kick defeat away to The New Saints in the Irn-Bru Cup a few weeks back. The result didn't go to plan but the achievement itself is something the South African can be immensely proud of.
Keaghan's contribution to the club over the years was recognised on Saturday with club chairman Robert Wilson presenting a trophy before the match to commemorate the record breaking feat while both his own teammates and opponents for the day, Queen of the South, held a guard of honour to applaud him on to the park.
Since that debut back in 2007, Keaghan has appeared for the Lions in all but one season since, with a move to his native South Africa meaning he didn't feature in the 2015/2016 relegation season. His return from the bench away to Brechin in a 2-0 win last season was well received by the Livi faithful with Keaghan having always been regarded as a firm fans favourite in his time here.
That debut goal is one of 26 over the 221 appearances which means, on average, we see a Jacobs goal every 9 appearances. Funnily enough, Keaghan has featured in 9 games this season so far and has one goal to his name…
The pick of the bunch when it comes to those 26 goals could be awarded to his fine, 25 yard effort away to Dumbarton in January 2015. Watch it again here – https://www.youtube.com/watch?v=nB9cFsBOMQA
It goes without saying that everyone involved with the club from coaches to players to fans are all delighted and proud to see Keaghan acknowledged for his commitment and at only 28 years old, there's no reason why that record can't continue to grow to an almost unreachable amount.
Well done Keaghan!